SNP claims more support in anti-fuel duty rise campaign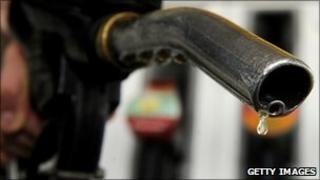 The SNP has claimed growing cross-party support at Westminster for its campaign to halt a planned 3p rise in fuel duty in August.
The party said 40 MPs from nine parties and an independent had pledged to support a clause drafted by the SNP to amend the chancellor's latest budget.
They include two Labour MPs from Scottish constituencies.
The SNP plan to table the amendment when the budget has completed its committee stage in late June.
The party said its campaign, which is backed by lobby group Fair Fuel UK, had grown steadily since it was launched last week.
A list of the 40 MPs said to be backing the clause has been published on Fair Fuel UK's website.
The list includes Labour MPs Brian Donohoe, who represents Central Ayrshire, and Russell Brown, whose constituency is Dumfries and Galloway.
'Politicians uniting'
SNP Treasury spokesman Stewart Hosie, who is leading the campaign at Westminster, said: "It's fantastic news that after just one week, 40 MPs have signed up for action on fuel.
"Politicians are throwing aside party differences and uniting on this crucial issue to help boost our stagnating economy.
"The SNP clause to scrap the 3p fuel hike is a clear and effective way for the Treasury to take action now."
He added: "Scrapping the clause will ease the burden on households and businesses across the country and, crucially, it will help get the economy moving again."
The SNP has said it would like to see the introduction of a fuel duty regulator to moderate rises in the price of petrol and diesel.
The party said figures published by the European Commission showed tax as a proportion of price in the UK was the highest in Europe.