Fun and games at Leveson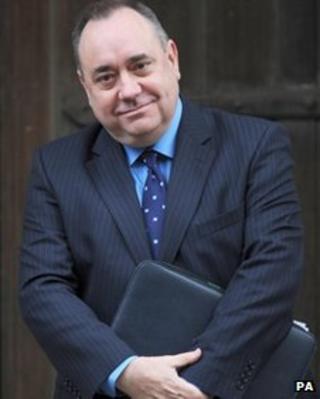 Fun and Games at the Leveson inquiry as Scotland's First Minister Alex Salmond gives evidence. Fun? Games?
Let me explain. That was the name of a shop in Linlithgow where Mr Salmond apparently made a purchase.
And this relates to Leveson how? Let me explain again. Mr Salmond said this transaction was part of evidence that his bank account had been accessed by the Observer newspaper some time in 1999. With only a hint of a wry smile, Mr Salmond said that the title of the emporium perhaps attracted unwarranted attention as to the precise nature of the purchase.
To clarify, Mr Salmond noted that Fun and Games was a toy shop. He had been buying toys to delight youthful relatives. In any case, as he noted - still wryly - this was Linlithgow.
It was a moment both droll - and, of course, deeply serious in that Mr Salmond was alleging that his privacy had been breached.
In response, the newspaper says this complaint was made to them a year ago - and that they can find no evidence as to its veracity. They stress, however, that they take the matter seriously and would be willing to investigate any concrete evidence.
In many ways, that combination of droll and deadly serious set the tone for the day. Mr Salmond indulged in very occasional badinage with Lord Leveson and the inquiry counsel, Robert Jay QC.
At one point, Mr Salmond was setting out Scottish Parliamentary procedures and policy scope.
Lord Justice Leveson contrasted this with the position in "the English Parliament". The SNP leader could not resist saying that he liked that formulation very well indeed. Lord Justice Leveson appeared, momentarily, stumped by his own constitutional faux pas.
'For Scotland'
But there was substance too. Repeated inquiries from Mr Jay as to whether Mr Salmond had, in effect, cut a deal. Had he offered to support the bid for full control of BSkyB in return for The Sun supporting the SNP at the Holyrood elections in 2011?
Mr Salmond said no, equally repeatedly. If he had made any such suggestion to Rupert Murdoch, he would have been told to contact the individual newspaper editors.
Yet, Lord Justice Leveson mused, had not Rupert Murdoch himself indicated his own influence - and said that if the public wanted to know his views they should look at the columns of the Sun. Maybe so, said Mr Salmond, but in practice he knew he would be advised to go to the editors.
And so in early 2011 he had contacted the new editor of the Scottish Sun - who had been eager to support the SNP at the upcoming Holyrood election. Mr Salmond said he had been concerned that London might veto any such initiative.
So, Mr Jay inquired, did you contact James Murdoch in order to seek support for the SNP? No, said the First Minister, his only aim had been to ensure that there was no block placed in the path of the editor of the Scottish Sun declaring support for the SNP. To avoid a negative, in short, not to trade a positive.
Mr Salmond insisted repeatedly that his only concern at all points in contacting the Murdochs and the bosses of News Corp more generally had been to secure Scottish employment. He pointed out that BSkyB involved more than six thousand jobs in Scotland. His concern had been to secure their future and, if possible, enhance those numbers.
Indeed, Mr Salmond is now pursuing a meeting with the non-Murdoch boss of BSkyB - again with jobs in mind.
Tonight Mr Salmond's critics say that the evidence heard today does not get round the fact that he was a loyal and persistent supporter of the Murdochs even after the phone hacking scandal emerged. Mr Salmond replies that his concern then - and now - remains the Scottish economy.