Scotland 'to see rise in military personnel'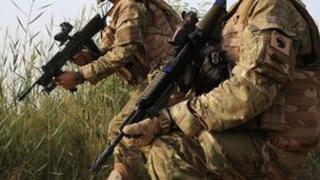 The Scottish government has said it will continue to press UK ministers over their commitment to increase military personnel in Scotland.
The statement follows a meeting of Scotland's strategy secretary and the UK Armed Forces minister.
Bruce Crawford MSP said he secured agreement from Nick Harvey that Scotland would see a rise in the number of military personnel based here.
However, he said there was no guarantees over Scottish regiments.
Mr Crawford said he gained assurance that for the bases at Leuchars and Kinloss, which are transferring from RAF to Army use, transition plans would take account of the impact on the local economy and local public services.
He said: "While the minister could not provide certainty on the timescales for MoD decisions, which remains a key concern for the communities affected in Scotland, I welcome that he did recognise that account must be taken in any transition proposals, of the impact on the local economy and public services.
"Worryingly, in the first three months of this year, official MoD figures show that the number of MoD personnel posted in Scotland has fallen by 660.
"However, I was pleased to secure agreement from the minister that there will be an increase in the number of military personnel in Scotland and that Scotland will still become home to a multi-role brigade."
'Regimental traditions'
Mr Crawford said he would continue to press the UK government on their specific commitment of last year to increase military personnel in Scotland by 2000.
UK ministers announced in July last year that the RAF Leuchars base would close and become a new Army headquarters. The government said this would mean an increased military "footprint" in Scotland.
Mr Crawford also discussed the issue of regiments with Mr Harvey.
He said: "I am very disappointed that the MoD and the Armed Forces minister were today unable to guarantee the future of our traditional Scottish regimental units.
"The Scottish government understands the importance of Scotland's historic regimental traditions and we have repeatedly called on the UK government to respect those traditions as it takes forward its plans for Army restructuring."
A spokeswoman for the Ministry of Defence said there were no plans to strip away regimental cap badges.
She added: "A regular Army of 82,000 plus 30,000 reserves will have a different structure to one of 102,000, and some units will inevitably be lost or will merge.
"The traditions and heritage of the Army's regimental system are hugely respected, and the defence secretary has been clear that this is fundamental to British Army fighting power.
"We are not going to change that. There are no plans to strip away existing names and leave battalions with numbers only.
"Decisions on the future structure of the Army are yet to be finalised and an announcement will be made to Parliament in the next few weeks."