Edinburgh Legionnaires' outbreak: MSPs to quiz response team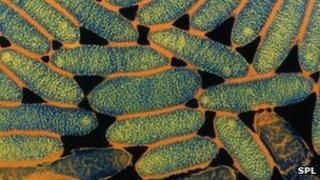 The team which has been managing the response to the Legionnaires' disease outbreak in Edinburgh is to be quizzed by a committee of MSPs.
Two people have died and there have been 44 confirmed cases in the outbreak which began at the end of May.
Holyrood's health and sport committee will conduct its evidence session on Tuesday, 26 June.
Representatives from Edinburgh Council, NHS Lothian and the Health and Safety Executive will be before the committee.
Convener of the committee, Duncan McNeil, said it was the "appropriate time" for MSPs to ask questions about the handling of the outbreak and progress in identifying the source.
The management and response to the outbreak of legionnaires' disease in Edinburgh is to be the focus of an evidence session by the Health and Sport Committee at a meeting on 26 June.
Mr McNeil said: "Two people have tragically died as a result of this disease. Where we can, we must learn lessons from this case, which will be a key part of the Committee's questioning."
Witnesses to the committee will include;
Pam Waldron, HSE director, Scotland, and head of field operations directorate, Scotland and Northern England division
Dr Alison McCallum, director of public health and health policy, NHS Lothian
Dr Duncan McCormick, consultant in public health, NHS Lothian
Colin Sibbald, food health and safety manager, City of Edinburgh Council
Dr Jim McMenamin, consultant epidemiologist, respiratory team Health Protection Scotland
Earlier this week, Scotland's Health Secretary Nicola Sturgeon said it was understood that the outbreak had "reached its peak".
Of the 44 confirmed cases, seven patients remain in intensive care, with a further 18 in general wards in hospital.