Former Labour first minister Henry McLeish given college reform role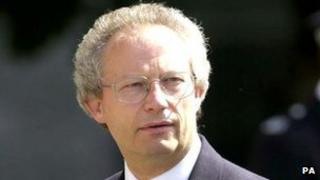 Former first minister Henry McLeish will help the Scottish government spearhead college reforms.
The Labour politician is one of 12 people who have been asked to look at reshaping post-16 education at a regional level.
Education Secretary Mike Russell has been devising plans "to make it easier for students to progress".
He is also keen to see college and university mergers, which have sparked objections from opposition parties.
Mr Russell said that college regionalisation, to better align further education with local and national labour market needs, "lay at the heart" of his plans.
In a statement he added: "College leaders have seized this opportunity and with our help are bringing about the changes we need at an impressive rate.
"I have invited a number of respected figures, such as Ian McKay and Mr McLeish in Edinburgh and Glasgow respectively, to lead regionalisation alongside the colleges."
The minister said that as well as the regional planners, he had also created an advisory forum on higher education, following Professor Von Prondzynski's report into university governance.
Mr Russell told Holyrood: "Strong progress has been made and the Scottish government will continue to support our universities, colleges and training providers to deliver for our school leavers and graduates to ensure our young people have the skills, experience and ambition to support Scotland's economic growth."
The minister is of the view that each region should have one super-college, but there could be more than one in particular regions where it was deemed appropriate for students.
Labour's education spokesman Hugh Henry hit out at the new structure saying it showed an "unprecedented level of ministerial control and interference".
He added: "New chairs and boards will be appointed by ministers and can be removed by ministers."
Tory education spokeswoman Liz Smith questioned what evidence there was to "suggest the reforms that are already being made by colleges and universities themselves are in someway insufficient and requiring Scottish government direction".
The Educational Institute of Scotland (EIS) said it broadly welcomed the proposed reforms to the governance structures of the country's colleges.
The EIS's general secretary Larry Flanagan said: "The move to a regional structure of governance for Scotland's Further Education Colleges is welcome, which should if implemented properly, lead to improvements in terms of national and local accountability and transparency."
Regional list
Commenting on Mr Russell's announcements, John Henderson, chief executive of the charitable company Scotland's Colleges which represents higher education institutions, said colleges were making good progress towards moving to a regional structure.
He added: "The shadow board chairs announced today will have a pivotal role in taking forward the next steps in reform. These individuals named each bring much knowledge and experience to their role.
"One of the main challenges will be how the new regional boards work with existing college boards, as getting that relationship right will be crucial, particularly in regions where there will be more than one college operating. That relationship should, we believe, ensure both effective partnership working for the region while protecting local responsiveness."
Mr McLeish became first minister in 2000 after the death of Scotland's first first minister Donald Dewar. He resigned the following year after controversy over office expenses.
The full list of people who have been asked to take part in the regionalisation plan included:
Aberdeen and Aberdeenshire: Ken Milroy
Dumfries & Galloway: Barbara Kelly
Highlands and Islands: Michael Foxley
Lanarkshire: Linda McTavish
West Lothian: Peter McKiernan.
The government said it was also in the process of appointing someone to look at regional planning in Fife.