Scottish independence: Nato policy u-turn can work, says Angus Robertson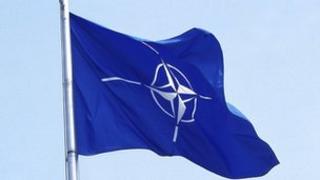 The SNP's defence spokesman has insisted an independent Scotland could be part of Nato and still oppose nuclear weapons.
Angus Robertson's comments came after he laid out proposals for his party to end its 30-year opposition to being part of the military alliance.
He said it was time to "face up to the fact" that other countries saw Nato as a key for international relations.
The policy u-turn plan is being debated at the SNP conference, in October.
Mr Robertson put forward his proposals in the run up to the 2014 independence referendum, as part of a blueprint of how defence, security and internatinal relations could work in the future .
The party said that, if Scotland became independent, the UK's Trident nuclear weapons, based on the Clyde, would be removed.
Mr Robertson told BBC Radio Scotland's Good Morning Scotland programme: "We can manage to deliver our commitment to rid Scotland of nuclear weapons, but, at the same time, we can retain the commitment to neighbours, allies and friends and those are countries like Denmark, Norway, Iceland, and plenty others who believe it's important to work together.
"For them, the organisation that does that is Nato, and I think now is the appropriate time for us to face up to the fact that, if that's the way they want to work with other countries, that would have to include Scotland too."
Despite being an organisation which supports the use of nuclear deterrents, Mr Robertson said 20 out of the 28 Nato member states did not have such weapons, arguing that it was normal in the international community for countries, like Norway, to shun their use in favour of conventional defence forces.
The Moray MP said an independent Scotland, as a member of Nato, would only take part in an operation if it was sanctioned by the United Nations and supported by the Scottish Parliament and government.
'Long and hard'
Asked whether a nuclear-armed vessel of a Nato ally would be allowed into Scottish territorial waters, Mr Robertson said: "I think it would be understood by other countries that a country operating a non-nuclear policy would not wish to see nuclear armed vessels visiting ports - that's the standard operating procedure in the international community."
The SNP has been accused by its political opponents of watering down key policies, like whether to keep the pound and the Queen as head of state in an independent Scotland.
On the Nato policy shift, Mr Robertson said: "Having looked long and hard at this, and having visited our neighbouring countries, the message has come back to me loud and clear that, if we want to be good neighbours and allies, we need to work with our neighbours and allies."
He said the SNP was a "democratic political party", adding: "There will be people that will be in favour, there will be people who are opposed.
"But I think you would be mistaken for believing that there isn't a very strong body of opinion within the SNP that thinks it's right for us to get rid of Trident and also right for us to work with our neighbours and allies."