Scottish trade mission to London games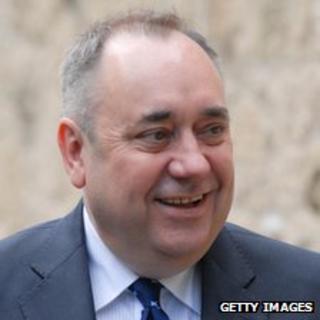 A trade delegation from Scotland will head to London as the world's attention is drawn to the UK capital by the Olympic games.
First Minister Alex Salmond is to lead the mission, which will showcase Scottish industries and promote investment.
A temporary venue has been set up on Pall Mall to host more than 40 events.
The Scottish government believes the initiative will send out a "clear message" about Scotland's strengths.
The formal launch of the mission at what is being called "Scotland House" will be held before the Olympics opens on Friday 27 July.
Writing in a Sunday newspaper, Mr Salmond said: "These Games present us with an unmissable opportunity to promote Scotland to the many thousands of visitors and businesses who will flock to London in the coming weeks from across the globe.
"It is absolutely crucial that we take this once-in-a-lifetime chance to show them what a great place Scotland is to invest in or visit, and what superb, high-quality produce we export all around the world.
"That is why we have set up Scotland House in Pall Mall, right in the heart of London for four weeks, to showcase the absolute best of Scottish business, culture, food and drink and sport to overseas visitors, international business people and journalists."