New £6m Scottish Parliament security hall given final go ahead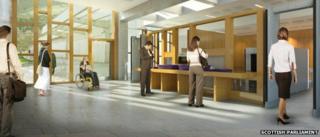 A new £6.48m security entrance to the Scottish Parliament has been given the final go ahead.
The Scottish Parliamentary Corporate Body said building would start next month and it would be operational by summer 2013.
Former Scottish Parliament presiding officer Lord Steel described the plans as "more than bonkers".
However, the corporate body said it had a duty of care to the 400,000 people who visit Holyrood each year.
It added it had a legal responsibility to "safeguard their wellbeing".
Holyrood's corporate bosses made a planning application to Edinburgh City Council for permission to build the security entrance, in light of advice from Lothian and Borders Police and the parliament's security advisers, following the Glasgow Airport terror attack.