Play Scotland plea to give Scots children legal right to play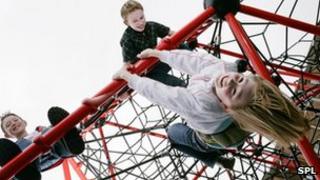 Children in Scotland should have a legal right to play, a lobby group has told MSPs at Holyrood.
Play Scotland went before the petitions committee to ask that the new children's bill going through Holyrood included the statutory provision.
If successful it would place a duty on local authorities to provide sufficient play opportunities for children.
However, the Scottish government said it did not believe a legal provision was the answer.
Marguerite Hunter Blair, who is chief executive of the charity Play Scotland, said children's playtime was crucial to their wellbeing and could not be dismissed as "frivolous".
She told the committee it underpined the four principles of the UN convention of the right of the child, which includes;
non-discrimination
survival and development
the best interests of the child
and participation
Ahead of the Scottish Parliament meeting, Ms Hunter Blair said: "We want child-friendly communities in Scotland with green spaces where children can meet friends and play, walk safely in the streets on their own and participate in family, community and social life."
A recent survey of 13,000 children for NHS Greater Glasgow and Clyde found one in four children was spending as much as 12 hours a day in front of the television or on the computer.
Last year a report by IPA Scotland suggested only 35% of children felt happy and safe playing in their streets.
Life skills
Scotland's commissioner for children and young people, Tam Baillie, agreed that play should be taken "much more seriously".
He added: "Children learn essential life skills through play which is vital for their physical health, mental well being and social development.
"In my view we should ensure that all children have access to good play opportunities and facilities."
The Scottish Labour Party has backed the calls by Play Scotland. Its spokesman for children and young people, Neil Bibby, said he wanted more cash for traffic free zones, play facilities and football fields.
He added: "We are calling for Alex Salmond to back this move with improved funding for Scotland's councils to ensure that all of Scotland's children can access the play opportunities they need."
The Scottish government said it was providing £3m for play through the Early Years and Early Intervention change fund which supported projects to help children play safely in their local area.
A spokesman added: "We don't believe that placing a statutory duty through legislation is the most effective way of achieving a shift in attitudes towards play.
"However, we are a listening government and our clear priority is to work in partnership with local authorities and others with an interest to increase opportunities for children to play."