JK Rowling says Scottish independence not a good idea 'right now'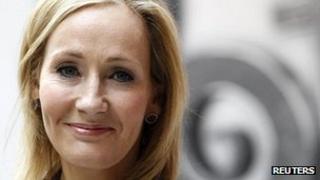 Harry Potter author JK Rowling has said she believes that independence "right now" is not a good idea for Scotland.
She made the comment during an interview with the BBC's arts editor Will Gompertz.
Rowling, who is promoting her first adult book, said devolution had been "fantastic for Scotland" and had given the country "a great deal".
The SNP government has said it wants to hold a referendum on independence in the autumn of 2014.
Rowling, who lives in Edinburgh with her husband and three children, is publishing her latest book "The Casual Vacancy" on Thursday.
It is the first time the creator of the Harry Potter series has turned her writing skills to fiction for adults.
The English-born 47-year-old told the BBC that she believed for Scotland to go down the path of independence could possibly destabilise the country.
She said: "I think devolution has been fantastic for Scotland, I really do, and I suppose, pragmatically, I think we've got a great deal, currently.
"I think that independence right now is not a great idea.
"We're in the middle of a huge, terrible, terrifying world recession.
"I just think now is a time for stability. And Scotland's doing great under devolution.
"I think economically we're in a pretty stable, sound condition.
"I would be personally quite averse doing anything that destabilised that in the next few years."
More than 450 million copies of Rowling's seven Potter books have been sold worldwide.
The novels, about a boy wizard who survives the attack that kills his parents, became a worldwide phenomenon and were turned into eight blockbuster films starring Daniel Radcliffe.