A political football in Barcelona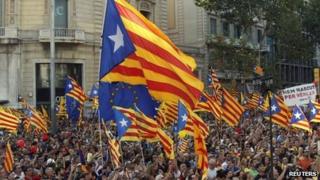 In Scotland - whether we like it or not - we're used to football and politics mixing.
Though Celtic and Rangers won't clash in the league this season, the old firm clubs' association with different sides of an Anglo-Irish argument made Ibrox and Parkhead places where some could express views that had no outlet anywhere else.
Perhaps in Scotland that will soon be a thing of the past - many certainly hope so.
But elsewhere in Europe football and politics still make a potent mix.
Imagine that Glasgow was Scotland's capital city and that it had only one football club.
Now imagine that club playing its football in the English premiership and that there was no Scottish national side.
Then you're beginning - just beginning - to explain the importance of FC Barcelona to the region - or the nation - of Catalonia.
Catalan identity
During the dictatorship that followed the fall of Barcelona in the Spanish Civil war, the city's football club became a symbol of Catalan identity, a place where their language could be spoken while officially banned under Franco.
The motto 'més que un club' - more than a club - sums up how many Catalans feel about Barcelona - especially when Real Madrid come calling.
I travelled to the Catalan capital last week to report on their independence debate and found myself outside their famous ground ahead of Sunday's classic confrontation with their fiercest rivals.
With Barcelona eight points ahead of Real this might not have been the most important fixture from a footballing point of view.
But recent political events ensured that this game would end up on the front pages of the morning's newspapers as well as the back.
On the 11th of September - the Catalan national day - a million and a half people took to the streets of Barcelona to demand independence.
Show of support
Opinion in favour of a Catalan state has risen because of Spain's economic crisis and anger over the attitude of the Spanish state to the Catalan language.
And so, on Sunday, pro-independence campaigners staged a show of support at el Camp Nou.
At exactly 14 minutes past five, 90,000 supporters in the stadium raised red and yellow cards, forming a giant Senyera - the Catalan flag - to commemorate defeat in the seige of Barcelona of 1714, to chants of "independència".
Outside, flag-waving supporters were keen to tell us why.
One young woman pushed a pram from which two baby boys looked on curiously at all the commotion, a Senyera draped over the back.
"If we have control of our money", she told me, "we could give them a better education, they could learn to speak better English".
A lad in his 20s tried to make a serious political point over the noise of a group of friends cursing exhuberantly in Catalan about Madrid manager Jose Moriño.
"How come the Spanish King doesn't speak Catalan if we're supposed to be part of Spain?"
Stalemate
One man stood with a heart-shaped banner showing the Spanish and Catalan flags joined together in harmony, but on that day at least, he cut a lonely figure.
Like the game - a two-all draw - Catalan politics is stuck in a stalemate.
After the September demonstrations, the Catalan president Artur Mas went to Madrid to demand more of the region's money back, but Prime Minister Rajoy refused.
Now Mr Mas has called a snap election in November and has said he'll hold a referendum on independence if, as expected, pro-independence parties get a clear majority.
But the constitution adopted when democracy was restored calls for the armed forces to defend the unity of Spain, meaning that any vote - in Madrid's view at least - would be illegal.
Without a vote, it's hard to know how many of those waving flags on Sunday were just 90 minute nationalists.
But for those travelling to Barcelona to see Celtic take on the Catalan giants in a few weeks, here's a thought.
If Catalans do decide to go for independence, then those supporters might have to wait for European competitions to take on the rivals that they love to hate.