Scottish government agrees plan to tackle ash tree disease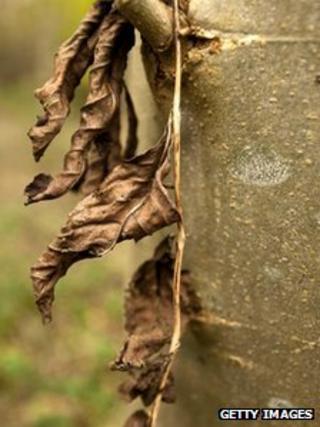 A temporary plan to control the spread of the fungal disease blighting ash trees has been agreed by the Scottish government.
There are currently 26 confirmed cases of Chalara ash dieback in Scotland out of 291 across the UK.
The plan will focus on reducing the spread of the disease and developing better resistance to it.
A new Tree Health Advisory Group will also be formed, to work with Forestry Commission Scotland and other agencies.
It is hoped the plan will tackle Chalara over the next few months, before the infectious stage of the disease becomes active again in the summer.
A more detailed plan is expected in March next year.
Paul Wheelhouse, Scotland's environment and climate change minister, said: "The Scottish government has been fully engaged with the UK government to create this interim control plan for Chalara.
"In Scotland we are continuing survey work to help map the extent of Chalara and provide a better evidence base for management decisions.
"The disease is not infectious until the summer months so we now have a window of opportunity to pull together the best plan of action for Scotland. In the meantime, the current import and movement ban on ash plants, trees and seeds will remain in place."
'Plethora of pests'
Stuart Housden, director of RSPB Scotland, said: "We are encouraged by the Scottish government's initial plans to tackle ash dieback following the environment minister's summit last month.
"Nevertheless, this is only a partial step towards tackling the plethora of new pests and diseases being imported into Scotland. We need a stronger approach to prevent these threats from arriving in the first place."
Carol Evans, the director of the Woodland Trust, said: "While there is a window of opportunity before the disease become active in the summer there's still an urgent need to act quickly to establish what action can be taken to control the spread of the disease.
"There are currently 26 confirmed cases of ash dieback in Scotland, but a total of 130 suspected cases were identified in the Forestry Commission's rapid survey and we would expect more of these to be confirmed in time.
"We would welcome the chance to be part of the Tree Health Advisory Group and help to ensure that action is taken to protect our native trees and woods from pests and disease."
The advisory group will be able to use the findings of a study by independent consultant Dr Rick Worrell into the potential impacts of Chalara in Scotland, which is due to be finished in mid-December.
In total, 21 of Scotland's 26 cases are in new planting sites, with four found in the wider environment and one private nursery in the north east.