Scottish independence: Nicola Sturgeon in EU commitment pledge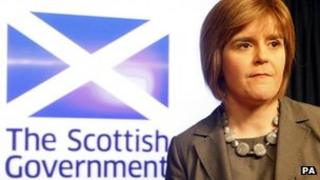 Nicola Sturgeon has written to European foreign ministers to assure them that Scotland remained committed to the European Union.
Scotland's deputy first minister said the country would work alongside the UK and the EU after a "positive" independence referendum result.
She also expressed opposition to an in/out referendum on EU membership.
Last week, Prime Minister David Cameron pledged to hold one if the Tories win the next general election.
In the letter to foreign ministers, Ms Sturgeon highlighted the importance of the European market to Scotland's economy and stressed that the Scottish government had "no intention" of leaving the EU.
She argued: "The ability to trade within a single market of 500 million citizens is a central aspect of our strategy to stimulate growth by increasing international trade.
"The European Union continues to be Scotland's top overseas export destination, our exports to the EU are up by around 15% to over £11bn according to figures released this week."
'Community of interest'
The deputy first minister said the Scottish government understood that benefits of EU membership came from "working in partnership to ensure the EU is built on a community of interest".
She continued: "I therefore want to assure all member states that following a positive result in the referendum we would work with the United Kingdom and the rest of the EU in partnership to ensure we continued to play an active part in that community of interest."
Ms Sturgeon added: "We have no intention of leaving the European Union.
"On the contrary we will seek to be a constructive member of the union, working with other member states to maximise the benefits we have enjoyed as members for over 40 years.
"I sincerely hope that if the prime minister comes to hold an in/out referendum, by that time Scotland will be an independent member state and will be playing its part as a valued and active partner within European Union."
Last week, Ireland's European affairs minister said she believed an independent Scotland would be welcomed into the EU, but would need to go through a lengthy application process.
'Humiliated'
A spokesman for the Better Together campaign opposing independence, claimed Ms Sturgeon would not "take no for an answer".
"On Friday she was humiliated when her host, the Irish foreign minister, said that Scotland would have to go through a lengthy application process", he said.
"Time and again [European Commission President] Barroso has made it clear that a separate Scotland will have to apply to the EU as a new state.
"This means having to negotiate an opt out from the Euro, having to negotiate an opt out from Schengen and losing the rebate worth hundreds of pounds to every Scottish household.
"The Scottish government's own figures released this week showed that Scotland sells four times as much to the UK union as to the European union."
He added: "Sturgeon's position has no credibility. Why is it okay to be in a union with Europe but not with our closest neighbour and most important trading partner?"