Knife crime tops agenda at National Youth Summit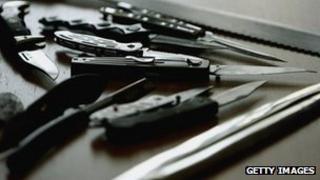 The issue of knife crime and what is being done to tackle it has been discussed at a conference in Glasgow.
More than 100 young people gathered for the National Youth Summit at the city's science centre.
They heard from Justice Secretary Kenny MacAskill about the government's No Knives Better Lives initiative, designed to reduce violence.
They also discussed ways to tackle negative perceptions of young people in wider Scottish society.
The Scottish government has said recorded crime is down to its lowest level in 37 years, with the number of people caught carrying offensive weapons down to its lowest level in 10 years.
Its No Knives Better Lives initiative, which has been rolled out across 10 local authority areas, uses work in schools and youth schemes, diversionary activities and advertising to discourage knife carrying.
Ministers claim it has helped to contribute to a 20% reduction in crimes of handling an offensive weapon on a national level since it launched in 2009.
Root causes
Mr MacAskill said: "Knife crime has been a blight on our communities for too long.
"There are no easy solutions and we acknowledge that more always needs to be done.
"By ensuring tough enforcement of the current laws and continuing efforts on education, diversion activities and tackling the root causes of violence, I believe we can and will see further progress towards a safer Scotland."
Jordan McCafferty, 19, from Hillhouse in Hamilton, has been a member of the South Lanarkshire Youth Council for five years.
He said: "I work with youth groups to educate them on the consequences of anti-social behaviour and knife carrying.
"We hear too many stories of young people being the cause of knife crime in society but the reality is that the majority of us are actively involved in just the opposite kind of behaviour and are committed to making a change for the better."
The summit will host a series of creative workshops and give the delegates a chance to consider what more can be done to empower local communities and tackle the negative perceptions of young people.