MSPs to hear evidence on benefit changes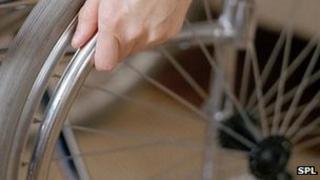 A Scottish parliament committee is to take evidence from people affected by the UK government's welfare reforms.
Welfare reform committee convener Michael McMahon, a Labour MSP, said: "It is all too easy for talk of welfare reform to be about numbers or to generalise and stereotype.
"The reality is it affects individuals with unique circumstances."
The Department for Work and Pensions (DWP) has said the changes will help some of the poorest families.
Ian Megahy, from Hamilton, South Lanarkshire, and Marlene Hepburn, from Stirling, will appear before the committee on Tuesday as part of its "Your Say" appeal for testimony on the impact of the DWP benefit reforms.
Last week, the DWP revealed more than a quarter of Scots on incapacity benefit prior to October 2010 had now been reclassified as "fit for work" - in excess of 17,000 people.
Those giving evidence to the committee believe the DWP and its private-sector assessors, Atos Healthcare, are not listening to the difficulties and fears of genuinely disabled people.
'Fit for work'
Mr Megahy, a former veterinary surgeon with debilitating chronic pain condition fibromyalgia, was reclassified "fit for work" after eight years on incapacity benefit.
He said he was sent home from his Atos assessment in a courtesy taxi after being deemed too sick to travel from Glasgow to Hamilton by public transport and later collapsed in a doctor's waiting room and required an ambulance after being told his appeal had failed.
"The diagnosis was a severe flare-up of my condition caused by stress and I believe that the call from the DWP was a major contributing factor," he wrote in a written submission to the committee.
"My condition has continued to deteriorate in that I have begun to use a wheelchair."
Ms Hepburn, a former teacher with MS, was reclassified "fit for work" after five years on incapacity benefit.
"My fear is that this whole experience will trigger a relapse," she said. "The emotional stress has been enormous and has had a detrimental impact on my health.
"I appreciate the benefits system needs to be reformed but not to the detriment of genuine claimants."
Impact on vulnerable
Mr McMahon said: "From the start, our committee was clear it wanted to give those affected a voice.
"Hearing their stories helps demonstrate the impact the policies are having on the vulnerable in our society."
Deputy convener Jamie Hepburn, an SNP MSP, said: "Hearing from witnesses about the fear welfare reform is causing them is never easy.
"It is our duty to then ask the hard questions of those in power about how they propose to solve the problems our witnesses face in their daily lives."
A DWP spokeswoman said: "The previous system abandoned people to a life on benefits without checking to see if they could, with the right support, go back to work.
"We've made substantial changes to the work capability assessment and the proportion of people being placed in the support group has more than doubled in just two years.
"Employment support allowance has regular reassessments to see if a person's condition has improved or worsened and assess how this affects their ability to work.
"Our reforms will improve the lives of some of the poorest families in our communities and Universal Credit will make over three million households better off through making work pay."
The Welfare Reform Committee can be viewed at the BBC's Democracy Live website from 10am on 5 February 2013.