Hospitals 'need mixture of wards'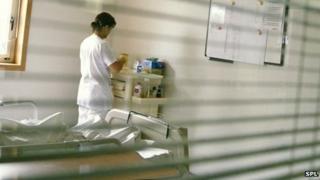 Questions have been raised over the drive to bring in single rooms as the norm across hospitals in Scotland.
It comes as the new Royal Victoria Building is being officially opened in Edinburgh, with 100% single rooms.
The move is aimed at protecting dignity and cutting infections but some doctors say it is not wanted by all patients and may limit staff monitoring.
Health Secretary Alex Neil insisted there were substantial benefits to single rooms.
Earlier this year the Scottish government said 26 hospitals in Scotland now provide only single rooms, while across Scotland's 218 hospitals, 32% of beds are now in single rooms.
The government set out an aim in 2008 that single rooms would become the norm for new and refurbished hospitals.
The biggest hospital under construction in Scotland, the South Glasgow Hospitals campus, will also have no adult patients sharing rooms.
Mr Neil told BBC Radio Scotland's Good Morning Scotland programme the health service was being designed to meet the clinical needs of patients, which meant all single rooms, with the exception of, perhaps, children's wards.
The health secretary said: "You have to look over the life cycle of the hospital, the building, what is going to be the savings made for example by reducing the incidence of hospital acquired infection.
"It's not just the financial cost of that, what's most important is the benefit to the patient.
"I think most people would want to be in an environment where the risk of hospital acquired infection was kept to the absolute minimum."
Human contact
But retired public health consultant Dr John Womersley said a hi-tech environment was a "poor substitute" for human contact.
He said: "The definition of dignity is very different from mine. I certainly wouldn't find it dignified to be locked up in a single room, attached to a lot of wires with people looking at me through an audio visual screen."
Consultant at Dumfries and Galloway Royal Infirmary, Prof Chris Isles, another long-term critic of the plans, said hospitals needed the flexibility of a mix between single rooms and shared wards.
Prof Isles told Good Morning Scotland there was also strong evidence that a majority of patients had no preference for a single room.
He added: "If an older person falls in a single room then the odds are they could lie there for some time before being discovered.
"Dumfries and Galloway, which only has 20% single rooms, needs far more single rooms - however there is no good evidence that single rooms on their own lead to a reduction in hospital acquired infections.
"There is evidence that if you have intensive infection control measures, that include single rooms, that's effective in controlling MRSA, but most of us believe that hand washing is key here."