Debate examines assisted dying law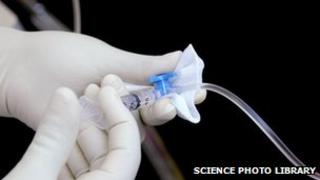 A theological debate is being held in Glasgow on moves to change the law on physician-assisted suicide.
It comes as work continues at Holyrood by independent MSP Margo MacDonald to bring forward another bill to allow assisted suicide.
She insists her call to allow assisted suicide for those suffering terminal conditions is not a moral issue.
The Friends At The End (Fate) conference features Church of Scotland speakers on both sides of the argument.
Saturday's conference debate will hear from Reverend Scott McKenna, a minister from Edinburgh who believes assisted suicide does not contravene Christian teaching.
And the Reverend Sally Foster-Fulton, convener of the Kirk's Church and Society Council, will put forward the opposite view at the event in Glasgow.
Rev McKenna told BBC Radio Scotland: "The argument starts with compassion - compassion at the bedside. Seeing a patient suffering intolerably and seeing the agony of their family and loved ones, and knowing that people could have had assistance.
"The Church is very keen not to do harm, and that's reasonable. But the truth is that by prolonging agony, we are doing harm.
"From a Christian perspective, Jesus embodies compassion, and he taught that there is not a single religious rule that is more important than meeting human need and suffering.
"I think the Church needs a new ethic, a new Scriptural ethic and a contemporary ethic. I think it's looking backwards rather than looking at the 21st Century."
'Slippery slope'
Rev Foster-Fulton said it was an emotive issue and the Church wanted to "challenge the notion that this is simply a debate about personal choice".
"One of the things that concern me is this caricature of the Church as patriarchal, distant and trying to impose its views," she told the Good Morning Scotland programme.
"There are grave concerns about this legislation because of the impact that it might have on other people, especially those who are vulnerable.
"There is a slippery slope argument, which says this will become a duty to die, rather than a right to die for individuals, especially those on the margins, or with disabilities, who are in their last days and may not wish to die."
Ms MacDonald's first bill before Holyrood fell foul of what she said was knee-jerk reaction from religious organisations.
The Lothian MSP, who has Parkinson's disease, has claimed there is public support for a change in the law.