Minister says 'no guarantee' over horsemeat in school meals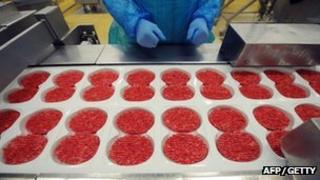 A Scottish government minister said he could not yet guarantee that horsemeat had not been used in food served to school pupils and hospital patients.
Richard Lochhead said tests would be carried out this week to establish whether the meat had been used in public sector supplied meals.
The minister was speaking ahead of a meeting with NFU Scotland.
Over the last few weeks there has been a growing scandal over the use of horsemeat in some supermarket meals.
Food standards inspectors have found that some processed "beef" products contained up to 100% horsemeat.
Leading retailers have been forced to take products, including ready meals and burgers, off their shelves.
Speaking on BBC Radio Scotland's Good Morning Scotland programme, Mr Lochhead said: "I can't guarantee anything and that it why these tests are being carried out.
"In terms public sector supply to schools, hospitals and prisons a lot of the inspection over the last week or so and taking place we are looking at the suppliers of catering contracts and other public sector bodies, so hopefully we will have those answers in the next few days."
The minister is due to meet farmers union members when they meet for the NFU Scotland AGM in St Andrews later.
Farmers have said they are frustrated and worried consumers may turn against Scotch beef in the wake of the scandal.
Mr Lochhead said he was hopeful the opposite would happen.