Scottish government appoint Prof Andrew Scott as EU advisor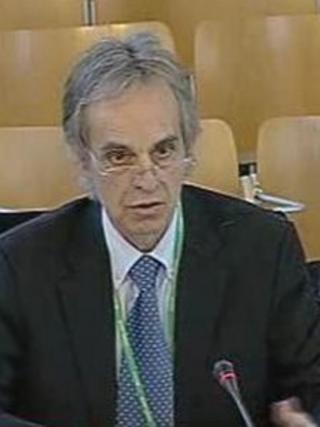 The Scottish government have appointed Prof Andrew Scott to advise ministers on the European Union.
Prof Scott will consult Scottish ministers in the run-up to the independence referendum.
Deputy First Minister Nicola Sturgeon said she was "delighted that he has agreed to offer his considerable expertise".
But opposition parties accused the Scottish government of "cronyism" over the appointment.
Prof Scott, who is an economist by training, is professor of European Union Studies at Edinburgh University.
He will advise the Scottish government on European treaties, as well as engagement with the European Union, during his two-year secondment.
Ms Sturgeon said: "Professor Scott is a highly-respected academic in this field, and his help will be invaluable as we prepare to negotiate the terms of Scotland's continuing engagement with the EU from within following a 'yes' vote in the autumn of 2014."
Prof Scott said: "I am very pleased to be joining the Scottish government on secondment to help deliver a European engagement strategy and to provide expertise on European Union institutions, treaties and policies that will underpin the Scottish government's approach to defining options for the future."
'Cronyism'
Opposition parties at Holyrood criticised the appointment, as Europe is a matter reserved to the UK government.
Patricia Ferguson, Scottish Labour's Europe spokesperson, said: "This shows how desperate the SNP has become on the Europe issue since it was revealed Alex Salmond's assertions on membership were baseless and his legal advice non-existent.
"This looks more taxpayers money being wasted on a referendum they are going to lose at a time when people want the government focussed on jobs and the economy."
Scottish Conservative deputy leader Jackson Carlaw said: "This won't repair the damage already done by the Scottish government's complacent attitude on Europe.
"It has shown it can't be trusted to ask the simplest of questions on EU entry and has gone to extraordinary lengths to cover up those shortcomings.
"People want the Scottish government to be honest on the issue of Europe and this cronyism will do nothing to improve its reputation."
Prof Scott is also the co-director of the Europa Institute. He will work for the Scottish government three days per week.