Scottish independence: Yes Scotland claims Westminster 'failing Scots'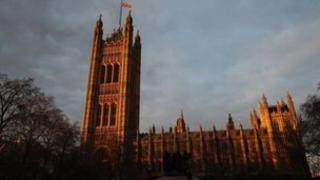 Westminster has failed to address a widening gap in inequality, according to a report published by the official campaign for Scottish independence.
The Yes Scotland report claims only independence can create a fair society.
It marks the launch of a major new phase in its campaign, focusing on how the country could become more just.
The pro-Union Better Together campaign has launched a leaflet laying out a series of "facts" to support its own case.
The Yes Scotland report, titled Yes to a Just Scotland, is a direct response to union body the STUC's call for both sides in the independence debate to set out their stalls on achieving a fairer Scotland made in its own report, A Just Scotland, published last August.
The report said that Scotland has both the wealth and the will to become a fairer country, and that creating more social justice goes hand-in-glove with a thriving, vibrant economy.
It added: "Too often policies that are designed to promote social justice and tackle inequalities are seen as inconsistent with policies that promote economic growth."
But many leading economists argue that countries which are most equal are best placed to boost sustainable growth, the report continued.
It stated: "We are fortunate in Scotland that there is a different balance of consensus around issues of social justice and social democracy - a consensus held by citizens, civic groups and organisations, as well as political parties, and indeed by some of our most successful entrepreneurs.
"With independence we can create a virtuous cycle of enterprise and compassion whereby jobs and investment create growth, helping to deliver a more equal and caring society."
Among a series of proposals in the report, Yes Scotland called on the STUC to urge all political parties to spell out how they would create a more socially just country in the event of a Yes vote in the independence referendum, which is due to be held in the autumn of 2014.
It said people need to know before the vote what specific policies parties had for tackling growing inequality and to develop a fuller understanding of what independence will mean in other areas beyond the starting point that will be set out by the Scottish government in its independence white paper.
'Financial hardship'
The report was formally unveiled before an audience of trade unionists, voluntary sector workers and students in Glasgow by Yes Scotland chief executive Blair Jenkins.
Mr Jenkins said investment in and around London had been deemed most economically efficient and this had led a growing economic imbalance across the UK.
He added: "It is becoming increasingly clear that Westminster isn't working for Scotland and we need a change of direction. This isn't about one government or one parliamentary term, but about an economic and social path that has been followed for more than 30 years now, with changes of government resulting only in a change of pace rather than a change of policy direction.
"In terms of social and economic cohesion, the Westminster system is breaking up Britain.
"Westminster policy is targeting the most vulnerable in our society. Welfare changes are pushing more and more families into financial hardship and austerity, as an economic policy, is consigning thousands of Scots to unnecessary unemployment or under employment."
Meanwhile, the Better Together campaign said it would be delivering a million leaflets across Scotland outlining its case for why the country is better off as part of the UK.
Among the "facts" contained in the leaflet are statements such as Scotland "can squeeze out every last drop of oil before it runs out and won't be left paying billions of clean-up costs by itself".
The leaflet also states that Scots who need specialist treatment can currently go to any hospital in the UK, free of charge.
A Better Together spokesman said they are not suggesting that the opposite would be true under independence, only that these benefits would be cast into doubt unless the UK Government agrees to share the oil industry's clean-up costs and maintain patient rights.
Other stated benefits include "more secure finances", citing the UK government's £470bn bailout of Scottish-based banks.
Other "facts" include statements such as: "We are stronger and more secure with the UK armed forces looking after us"; "It doesn't make sense to put up barriers to our nearest neighbour"; and "We should be working together to grow our economy and create more jobs, not waste time and money on splitting apart".