Put your referendum questions to Patrick Harvie of the Scottish Greens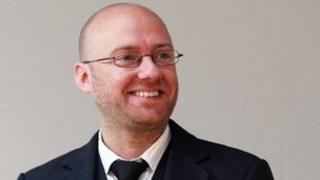 The leader of the Scottish Greens, Patrick Harvie, will be in the hot seat to answer your referendum questions.
The MSP's party backs independence and is part of the Yes Scotland campaign.
However, the Greens - unlike the SNP - are strongly opposed to an independent Scotland remaining part of Nato.
The party has formed its own pro-independence campaign, to run alongside Yes Scotland, in order to promote distinct policies.
Mr Harvie has said in the past: "Over the next to two years we will argue for a vision of Scotland as a peaceful country with social justice, equality and environmental protection at its core."
If you have something to ask the politician, email newsonlinescotland@bbc.co.uk
Please put "webchat questions" in the message field of your email.
Scotland will go to the polls in the autumn of 2014 to vote on whether the country should become independent.
Voters in the referendum will be asked a single yes/no question on independence.
Mr Harvie will be grilled on the issues readers highlight. The interview will be published on BBC Scotland's politics website.