Minister Kenny MacAskill rules out phones in prison cells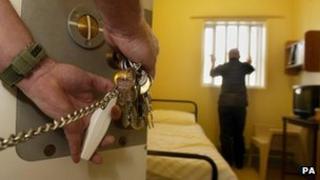 Allowing inmates to use telephones in their prison cells has been ruled out by Scotland's Justice Secretary Kenny MacAskill.
Scottish Prison Service chief executive Colin McConnell had suggested to MSPs last month that prisoners should have access to phones in cells.
Mr MacAskill said he would "require some persuasion" to change the policy on phones.
The minister was speaking to Holyrood's justice committee.
He also said that prisoners should be encouraged to watch television "sensibly" rather than impose a curfew on them.
After his appearance before the committee in January, Mr McConnell said that his phrase "I would have telephones in cells" was "a metaphor" and that his comments had been "sensationalised".
Labour MSP Graeme Pearson said: "At the last meeting Mr McConnell indicated that his view of access to televisions was that they should access as they would wish over the 24-hour period, as I understood it, and he also rehearsed a notion of access to telephones in cells.
"In the latest HM Inspectorate of Prisons report about Polmont, the inspector makes a very particular comment about young offenders lying in bed in their cells right on into the afternoon, and connecting that to watching television overnight."
He asked whether 24-hour television and telephones in cells would be reflected in government policy.
Mr MacAskill responded by saying: "It's common sense that if someone is staying up all night watching television, or whatever, then they won't be able to contribute purposefully.
"I think these are decisions best dealt with by the common sense of prison officers but I think there is also a common-sense position that wherever you are, whatever you are doing, there comes a time where the lights need to go off and you need to go to your bed."