Scottish referendum: Post-independence regulation 'would be simpler'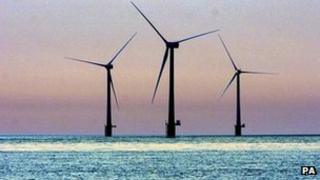 The regulation of industries such as the energy sector would be more straightforward if Scots voted for independence, it has been pledged.
Finance Secretary John Swinney said one or two bodies would oversee economic and competition authorities.
The UK government said the plans would lead to unnecessary duplication.
Mr Swinney insisted the new approach would improve the running of energy, telecommunications, postal services, water and the rail industry.
Currently the UK has six different economic and competition regulatory bodies.
The Scottish government's discussion paper, unveiled to business leaders in Stirling earlier, suggested that "one or two" could take their place.
Mr Swinney told BBC Radio's Good Morning Scotland programme: "There are of course complexities, there are always complexities in life, but there are also common themes and common factors.
"And running through all of these different areas that require regulation will be some common areas of understanding in relation to economic management, in relation to economic management, in relation to economic assessment, in relation to performance of particular bodies in delivering for the consumer interests - and that doesn't actually differ sharply from one area to another."
Mr Swinney insisted his proposals would not result in a "light touch" approach which might give consumers less protection.
The discussion paper said that the current UK economic regulatory framework "was not working to meet Scottish needs".
It listed examples, including;
Bills rising in the energy sector leading to "hardship" in Scotland for homes and businesses and "pushing more households into fuel poverty".
No mechanism to allow the 43% of households without mains gas to access discounts on energy bills.
Problems with broadband coverage reaching rural areas in Scotland.
And "unreasonably high" parcel delivery charges to the Scottish Highlands and islands.
Mr Swinney said that there would be cross-border co-operation on matters where it was needed.
Regulation of financial services and markets will be the subject of a separate paper which the government said it would publish later in the year.
Scotland's electorate will vote on independence in autumn 2014.
Scottish Secretary Michael Moore believed Mr Swinney's plans would only "double the red tape burden".
He said: "Two-thirds of all Scottish trade is with the rest of the UK. Scottish companies that follow one set of rules would be faced with a whole new set of regulations on top of that. We need to help our companies not double the red tape burden
"No company wants to have twice as many rules to deal with, but it will be the small and medium size companies who will be hit the hardest if this ever came to pass."