Second leak at Cormorant Alpha platform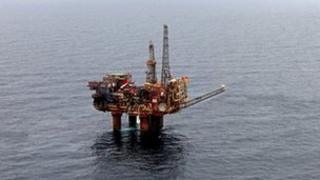 A North Sea oil platform has been partially evacuated for the second time this year after another oil leak was detected.
The Cormorant Alpha platform and its pipeline infrastructure were shut down after the leak was found in one of its legs during a routine inspection at 09:40.
About 70 of the 145 staff on board have been removed from the platform.
A similar leak was discovered on 15 January.
A spokesman for TAQA Bratani, which operates the platform, said no oil had been released into the sea.
He confirmed: "Hydrocarbons were discovered during maintenance work and remedial action has already commenced to contain the release.
"Hydrocarbon levels are being monitored and the platform and all pipeline infrastructure has been shut down as a precaution.
"The leak has been contained within the leg and no hydrocarbons have been released into the environment."
'Serious questions'
Everyone on board the platform was safe and well, the spokesman confirmed.
A controlled non-emergency evacuation of some non-essential staff was carried out on scheduled helicopter flights, he added.
The platform is some 94 miles north-east of Lerwick on Shetland.
Last month's leak led to a pipeline system servicing up to 27 oil fields being shut down.
The fields affected, and another eight associated platforms, produce about 10% of the UK's oil output.
Lang Banks, director of environmental group WWF Scotland, said: "While it's a relief to hear staff are safe and the leak has been contained, serious questions must be asked about the integrity of this aging rig.
"In the interests of the environment and all oil workers it would be wise for the relevant authorities to take a much closer look at this platform and those of a similar age dotted throughout the North Sea."