Review of Holyrood presiding officer election rules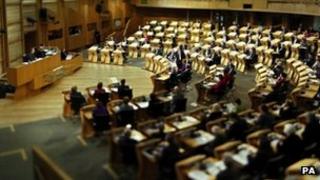 Presiding officers of the Scottish Parliament may in future be required to resign from their political party, under a possible shake-up of the rules.
Previous and current POs, elected from among the MSPs, have done so on a voluntary basis, in the interests of political neutrality.
A review by Holyrood's standards committee is considering whether a formal requirement is needed.
The committee has asked for views on the issue.
The last Holyrood election saw the SNP become the first party to win an overall majority, meaning it plays a dominant role in the parliament's chamber and cross-party committees.
Current Presiding Officer Tricia Marwick, who was elected as an SNP member, gave up her party affiliation, like her predecessors.
Secret ballot
The committee's review - which is looking at several aspects of presiding officer elections - is considering whether they would be formally required to suspend political party membership while they are in the job.
The two deputy presiding officers have, to date, remained in their political parties, although this will also be looked at.
The committee is also questioning whether candidates should be allowed to make a speech before MSPs take part in the secret ballot to elect them.
And they're considering whether they should have to have their nominations seconded by a member of a different political party.
The presiding officer, who is similar to the speaker of the House of Commons, chairs proceedings at Holyrood, ensures MSPs behave themselves and represents the parliament at formal events.
Liberal Democrat Lord Steel was the first presiding officer, followed by the SNP's George Reid and Alex Fergusson, who has since returned as a Conservative MSP.