UK 'offers best of both worlds' for Scots businesses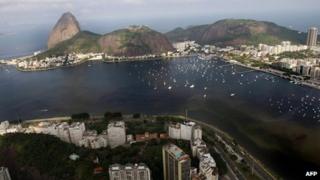 Scotland has "big opportunities" to do business in countries like Brazil as part of the UK, Michael Moore has said.
Ahead of a visit to the South American country, the Scottish Secretary said Scots' energy expertise was much sought after in Brazil's emerging oil sector.
He said combining UK influence and Scottish excellence "gives us the best of both worlds" when trying to do business in economies such as Brazil.
The SNP's Stewart Hosie said Scotland was big enough to push itself globally.
Mr Moore will be in Brazil at the same time as the UK government hosts an "energy showcase" in Rio de Janiero.
Figures from the Brazilian government and oil industry will be represented, and Mr Moore said the event was a prime example of how the international reach and influence of the UK can be used to open doors for Scottish companies.
The Scottish Secretary's first engagements in the country start on Sunday, and include joining up with Lord Coe in Rio, to promote the links between the UK and Brazil.
The city follows London as the next host of the Olympic and Paralympic Games in 2016.
Speaking ahead of his four-day visit, Mr Moore said: "When you go to a country with more than 190 million people, such as Brazil, you see at first hand how Scotland benefits from being part of the overall UK effort."
He said there were huge opportunities for Scotland to do business in Brazil, but added that it can also be massively intimidating.
"Every week staff from UK Trade and Investment and the Foreign and Commonwealth Office are working hard in places like Sao Paulo and Rio to assist Scottish companies," he said.
"Scotland's expertise in areas such as energy are highly sought after in Brazil's emerging oil industry. Combining UK influence and Scottish excellence gives us the best of both worlds as we try to do business with Brazil that will create jobs back at home.
"The UK government's Energy Showcase is a prime example of how we can play to the strengths of Scotland and the UK. The international clout of the UK works for Scotland and the other parts of the UK family."
But Mr Hosie said: "This says more about Michael Moore than it does about Scotland.
"Scotland is big enough and bold enough to push our interests on the world stage - we achieved unique status for Scotch whisky in China, for example - and being under Westminster's shadow damages the promotion of Scotland."