Clegg looks to winning ways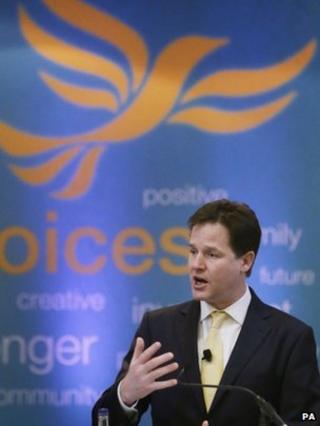 As evangelism, it was decidedly mild and understated. Nevertheless, Nick Clegg set out to energise his Scottish party colleagues at their conference in Dundee.
In essence, his message was - stop apologising and start winning. He urged them to lay much more stress on what he regards as significant achievements by Lib Dems within the UK coalition - rather than the fact of the coalition itself, given its other half.
Mr Clegg began by acknowledging the extent of the disquiet in Scotland - including within his own party - about a coalition which maintains the Conservatives in power.
He noted that the Tories had but one MP in Scotland - David Mundell, deputy to the Lib Dem Scottish Secretary.
In truth, it is probably difficult for Mr Clegg to appreciate the full extent of the discomfort felt by his Scottish party. Many of them were not just dismayed at the coalition choice. They were catatonic, laid low.
In truth, also, the most aggrieved are probably not at conference in Dundee - although some are. And those who are still fret that their party is seen as "the Tories little helpers."
In his webcast interview with me, the Scottish LibDem leader Willie Rennie acknowledged the extent of the electoral problem caused for him and his colleagues in Scotland by the coalition decision. But Mr Rennie also pointed to light flutterings of revival in local government by-elections.
That, as strategists will readily recognise, is pinning rather a lot upon small stirrings. But it was the essence of Mr Rennie's introduction to Nick Clegg - and of Mr Clegg's address itself.
However, as stated, the federal leader's speech was gentle and modest. It could, perhaps, scarcely be anything else. The Chancellor will set out his Budget next week against the background of continuing economic worries. That spills over into continuing discontent with the UK governing parties.
Mr Clegg's argument was, of course, largely a modified version of the message which he delivers to a UK audience - that the Lib Dems are making a difference partly through positive advocacy and partly through exercising a veto on certain Tory ambitions.
In the first category, he placed initiatives to take more of the low-paid out of tax. In the second category, he cited objections to emerging Tory ambitions to withdraw from the European Convention on Human Rights. For Scotland, he added the devolution of further powers to Holyrood through the Scotland Act and Michael Moore's efforts to clarify the referendum on independence.
He urged his party to spell these points out more vigorously - to stop shrinking and start winning.