Lib Dem Tavish Scott calls for home rule in Northern Isles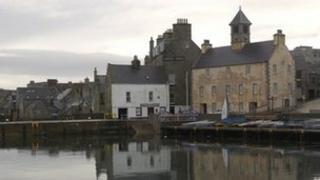 Former Scottish Liberal Democrat leader and Shetland MSP Tavish Scott has used a party conference speech to call for "home rule" in the Northern Isles.
He believed current "constitutional navel gazing" offered an opportunity for Shetland and Orkney.
Mr Scott said regardless of the outcome of next year's referendum, the Northern Isles should have more devolved powers.
The issue was debated at the two-day Scottish Lib Dem Party conference taking place in Dundee.
Delegates backed Mr Scott and said that Shetland and Orkney should have a right to self-determination.
Party members agreed unanimously that the islands should develop their own relationship with central government.
Mr Scott told the gathering that islanders should also use oil and gas off their coasts for any future negotiations on self-determination.
He said: "Shetland and Orkney may never have a stronger opportunity to negotiate a future for the islands.
"A future that benefits the economy, culture and our identity in the wider world for the advantage of future generations of islanders.
"If we do nothing then the future is clear. Schools and local ferries dictated by the central belt and the emasculation of local accountability.
"This time can be our time, an island time. I'm a Shetland islander first, a Scot second and a Brit third.
"That should be our goal - nothing less than island home rule."
At the last Holyrood election, the Scottish Lib Dems only managed to win first-past-the-post constituencies in Shetland and Orkney.
Mr Scott said his argument against centralisation extended across Scottish islands and rural areas.
He added: "We don't want more centralising, know it all, top-down nationalism. This SNP government doesn't care about the outer extremities of the country."