Scottish Lib Dem conference: Party members critical of own UK ministers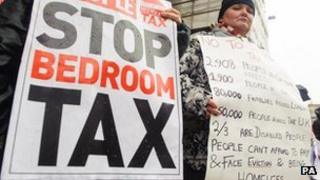 Scottish Liberal Democrats have criticised their own government ministers for failing to stop new benefit rules on spare rooms.
Party members, gathered at their Dundee conference, called on the UK's Tory/Lib Dem government to defer the so-called "bedroom tax".
The change could lead to residents losing housing benefit if they are deemed to be in under-occupied housing.
Scottish Lib Dem leader Willie Rennie said the rule was tough but necessary.
During a debate on the second day of the conference, former Lib Dem MSP Robert Brown, who is now a councillor, led the criticism, saying the change would mean a cut to people's "survival income".
He said: "I hope that conference will send the clearest of messages to the government, to Liberal Democrat ministers, that the policy is damaging and unfair."
Another former MSP, Mike Rumbles, said he appreciated the party must make compromises in government.
However, he added: "But taking an average £8 a week to encourage people to move to a smaller home is a nonsense."
The policy is mean-spirited, he told delegates.
Listening to the debate were Lib Dem backbench MPs, Malcolm Bruce and Alan Reid.
Jo Swinson, a Lib Dem minister, was among those heckled by anti-bedroom tax protesters outside the venue earlier.
Speaking during a question and answers session on business issues on the first day of the conference, Mr Rennie said: "The bedroom tax is tough, but it is central to the welfare reforms.
"If we believe in the principle of making work pay, we need to reform the welfare system to be able to cover that.
"Now, if you've got a house that you couldn't afford if you were working, that traps you on welfare, and I think we should incentivise people out of welfare."
Mr Rennie said his party was working with housing associations to make sure people did not suffer unintended consequences, and was "sensitive" to concerns about the bedroom tax.