Scotland's opposition parties call to halt 'flawed' education reforms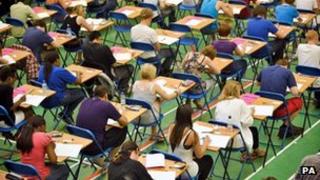 Opposition parties have called for a delay in a raft of changes for colleges and universities in Scotland.
Labour, the Tories and the Lib Dems claimed proposed legislation going through Holyrood was deeply flawed.
Their stance comes as an education committee report backed the general principles of the bill but said clarity was needed on some aspects.
A Scottish government spokesman said the opposition parties wanted to "restrict education".
Labour, the Tories and the Lib Dems voiced concerns that the legislation was proposing financial penalties on universities failing to reach targets for students from disadvantaged backgrounds.
Further information
Holyrood's all-party culture and education committee is chaired by SNP MSP Stewart Maxwell.
He said: "There is general agreement about the need to reform Scotland's further and higher education sectors to ensure that they improve the life chances of young people.
"However, after hearing evidence we are clear that the Scottish government must provide clarity on some aspects of the bill, particularly in relation to college regionalisation.
"We have also asked the Scottish government for further information on how the new college structures will work in practice and to explain the underlying principles behind its planned reform of college boards."
There are six key areas of the Post-16 Education (Scotland) Bill including:
college regionalisation, the central element of the bill
university governance
widening access to higher education
review of fundable further and higher education
tuition fees
and data sharing.
Labour's Neil Findlay, the education committee's deputy convener, described the bill as "a real dog's breakfast".
He said: "Witness after witness criticised different aspects of the bill and many issues remain unclear and unanswered.
"In its current state, the bill is not fit for purpose."
Tory education spokeswoman Liz Smith argued that the bill was a bad one.
She said many people in the college and university sector were "confused" about whether the proposed legislation "will actually deliver the desired outcomes".
The Conservative MSP added: "What matters most is the ability of both further education and higher education institutions to deliver better quality education - I have not been persuaded that this bill can do that."
Liberal Democrat Liam McArthur raised fears the bill would not deliver on its aims.
Mr McArthur, another member of the education committee, said: "Widening access, improving governance and ensuring colleges and universities deliver high quality education to students of all ages are aims I fully support.
"However, there is widespread evidence that this bill will not help achieve this and gives ministers powers they don't need.
"These concerns must be addressed before this bill can be allowed to proceed."
Widen access
A spokesman for Education Secretary Mike Russell said the opposition parties were "engaged in an unholy alliance".
He added: "They would force Scottish students to pay exorbitant fees, restrict access to higher education and would inhibit our attempts to get more young people into employment.
"The proof of our reforms is in the pudding.
"Colleges are delivering the valuable skills training our young people need, universities are beginning to take steps to widen access and our actions to tackle youth unemployment are delivering results."