Waiting for Holyrood's 'Big Reveal'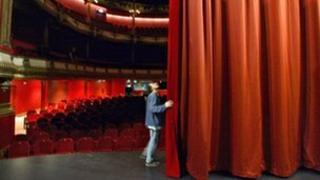 Wonder if they'll do a drum roll. The announcement of the date for Scotland's referendum is being elegantly choreographed here at Holyrood.
The bill, which sets out the rules for the referendum on independence, was formally introduced at the Scottish Parliament this morning.
But we won't know those rules - including the date - until the bill is published early this afternoon.
Customarily, introduction and publication occur on succeeding days.
But this bill is a bit special. After all, it provides the legal framework for Scotland's biggest decision in 300 years.
Also customarily, elements of Scottish government announcements find their way into the media in advance, with BBC Scotland frequently the conduit. But nothing doing this time.
The presiding officer, Tricia Marwick, was notably stern over recent pronouncements which featured in the wireless first. She made plain that the referendum bill must be disclosed to parliament.
And so the first minister, Alex Salmond, will have his big moment in Holyrood, with the Big Reveal coming towards the end of his statement - when he will disclose the date for the plebiscite.
The bill will also feature the agreed question - "Should Scotland be an independent country?" - together with the rules for campaign finance, timetabling and the rest.
The proposed legislation then goes to a special Holyrood committee, convened by former minister Bruce Crawford. This morning that committee was already hard at work, scrutinising the separate bill to enable 16 and 17-year-olds to vote in the referendum.
Process, process. Important, necessary.
But, in truth, the big process battles are already fought to a compromise.
Just the small matters of the campaign and Scotland's decision to come.