Gypsy-Travellers live in horrendous' conditions, MSPs say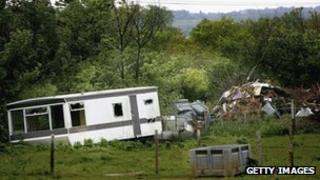 Many Gypsy-Travellers in Scotland are still living in horrendous conditions and continue to suffer discrimination, a parliamentary inquiry has said.
Holyrood's equal opportunities committee said they also had problems finding jobs and accessing services like healthcare.
MSPs on the cross-party committee called for a zero-tolerance government campaign to tackle the problem.
Ministers said they would respond to the report in due course.
The committee published its findings in a new report, after MSPs visited traveller sites in in Edinburgh, Dalkeith, Perth, Pitlochry, Oban and Lochgilphead.
They said little had changed since the first Scottish Parliament inquiry into how they lived, carried out 12 years ago.
MSPs said in the report: "When we visited sites we saw some horrendous conditions for ourselves.
"We were deeply disturbed to see that families paying rent to their local council were expected to bathe young children in freezing cold amenity blocks with extortionate heating costs, and that elderly and disabled people might have to go outside to a toilet block in the middle of a cold, winter's night."
Barely lit
The report added: "At one site, as well as a putrid overflowing septic tank and a fire hose that couldn't reach all of the pitches, we heard that, with no bus stop or roadside pavement, the only way for non-driving families to visit local shops or take children to use a playground was to walk two miles to the nearest town along a muddy, unlit woodland path.
"Another site was barely lit at night, with appalling and tokenistic attempts to make adaptations for a profoundly disabled resident and sightings of prowlers in the woods which provided the only place for children to play."
Equal opportunities committee convener Mary Fee said the time had now come for the government and local authorities to take action.
"A national strategy to support local authorities on housing strategies for Gypsy-Travellers and a national awareness campaign to ensure there is a zero-tolerance on discrimination against Gypsy-Travellers must be initiated and led by the Scottish government," she said.
The Scottish government said between 2005-6 and 2009-10, councils got £5m towards the improvement and creation of new traveller sites.
Ministers also said £600,000 was also being provided to help Gypsy-Travellers improve their skills, covering the period 2012-15.
A government spokesman said: "The Scottish government is determined to address discrimination against all of Scotland's minority communities.
"We are working with a range of stakeholders to address the particular needs of the Gypsy-Traveller community."
The spokesman added: "We welcome the equal opportunities committee's report and will consider its recommendations before responding in due course."