Prisoners 'watching too much TV'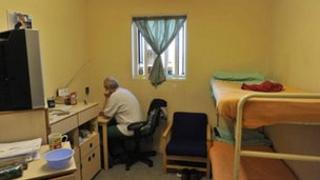 Prisoners in Scotland's jails are spending too much time watching TV instead of taking part in activities to cut reoffending, MSPs have warned.
The parliament's justice committee said inmates need more of a "nine-to-five" working routine to prepare them for work on their release.
Its concerns were raised in a report into "purposeful activity" behind bars.
Scottish ministers say reconviction rates are at a 13-year low and recorded crime is at a 37-year low.
The government has also been trying to cut reoffending with policies such as non-custodial community sentences and a presumption against jail terms of less than three months.
The cross-party justice committee, whose members visited several prisons as part of the inquiry, has called for a new strategy to ensure all prisoners get offered work, rehabilitation or education programmes.
Its report said prisoners' lack of a working routine should be addressed when they are behind bars.
It concluded: "The committee shares the concerns of many that some prisoners have unlimited opportunity to watch television.
"The committee agrees that a reasonable amount of time to watch television is fair as part of a prisoners' relaxation time.
"The committee recommends, however, that guidelines regarding the appropriate amount of television viewing time be included in the strategy on purposeful activities."
Justice committee convener and SNP MSP Christine Grahame, said: "There should be better access for short-term prisoners to activities and a focus on the broader range of skills which can equip a prisoner for life after release, such as basic literacy skills and family contact."