Mike Russell in 'coasting schools' warning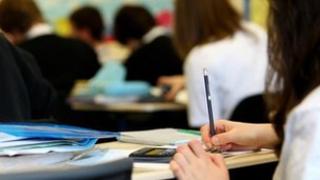 Scotland's education secretary has raised concern over "coasting" schools which are not ambitious enough for their pupils.
Mike Russell's comments came as he unveiled plans to make it easier to compare how schools are performing.
He said tackling the gap between the academic results of rich and poor was key to solving the problem.
But the education secretary specifically ruled out introducing English-style league tables.
Mr Russell's comments came amid concern that Scotland's attainment gap is wider than that of other European countries.
In March, a major report by Scotland's Commission on School Reform warned education reforms over 50 years had failed to make a significant improvement to the exam results of children from disadvantaged backgrounds.
It said an estimated one in five school leavers had few or no qualifications and poor skills in basic literacy and numeracy.
Mr Russell argued Scotland's education system was performing well, but said some "stubborn" problems still had to be tackled.
He told BBC Radio's Good Morning Scotland programme: "The biggest problem is the attainment gap.
"We don't have failing schools in Scotland like others have failing schools.
"We have schools that are coasting and aren't doing well enough for their pupils and aren't ambitious enough for their pupils, and that does lead to what we're talking about which is that big gap in attainment - a wider gap than exists in some other European countries."
The education secretary said government had to work together with local authorities, teaching unions and others to treat the issue as a priority.
Underachieving schools in poorer areas would be paired with schools in other deprived areas that have achieved better educational results.
Mr Russell said schools would be able to work out how they might perform compared to "the ideal school in their circumstances".
He pledged to make information on schools easily and publicly available and said it would allow teachers to drive up performance and help parents better understand how education worked.
Successive Scottish governments have decided on a move away from school league tables, since the Holyrood parliament was set up in 1999.
Mr Russell said: "We've not only ruled out league tables, I think we now see after 20 years of league tables in England, they don't work."