Scottish independence: Sturgeon defends plans to keep sterling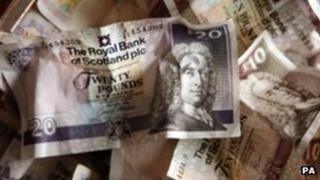 Plans for an independent Scotland to keep sterling as its currency have been defended by Deputy First Minister Nicola Sturgeon.
The Scottish government wants to retain the pound if the country votes for independence in next year's referendum.
Ms Sturgeon said it was "every bit as much Scotland's currency" as the rest of the UK's.
A UK Treasury spokesman said the simplest way to keep the pound was for Scotland to stay in the UK.
Needs and priorities
Ms Sturgeon said: "An independent Scotland will keep the pound because it is in everyone's best interests, and to try and suggest otherwise simply flies in the face of the facts."
She said the "common sense" argument was backed up by "overwhelming economic arguments".
If Scotland was to leave the UK but retain the pound, it would "still enjoy the huge advantages that the full fiscal freedom of independence will bring", Ms Sturgeon said.
"That means that we will be free to make our own tax and spending choices here in Scotland, to suit our own needs and priorities and to help create jobs and build a wealthier and fairer society for everyone who lives here."
She said the "only plausible reason for Westminster's refusal" to have talks on the currency issue was "the fact they know this is the most sensible and straightforward outcome and they are determined not to concede that for purely political reasons".
The deputy first minister accused the UK government of being in danger of "cutting off their nose to spite their face".
A Treasury spokesman said: "The current arrangements of a full monetary, fiscal and political union with substantial devolution deliver longstanding benefits for Scotland and the UK.
"But as the experience of the euro area has shown, a single currency without full fiscal and political union is a very different thing.
"The choice of currency for an independent Scotland would be a complex issue. Any arrangements to keep the pound in a formal currency union would have to be agreed with the continuing UK.
"The UK government will be publishing an in depth analysis on this issue shortly."