Scottish independence: Labour's Lamont says Taylor donation was appropriate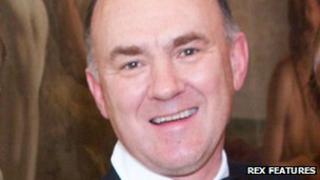 The Scottish Labour leader Johann Lamont has backed the Better Together campaign's decision to accept £500,000 from oil trader Ian Taylor.
She said it was an "appropriate donation" despite concerns over the past activities of Mr Taylor's company, Vitol, in places like Iraq and Serbia.
First Minister Alex Salmond has called for the money to be returned.
Ms Lamont, who is at her party's spring conference, was asked about the donation during a BBC news webchat.
In 2007, Vitol was heavily fined by a New York court after admitting making payments to the national oil company in Saddam Hussein's Iraq which were outside the UN's oil for food programme.
Vitol is also reported to have paid $1m to the notorious Serbian paramilitary Arkan as part of an oil deal in the 1990s. The company said it had not acted illegally.
Ms Lamont told BBC Scotland's political editor Brian Taylor: "In my view it is an appropriate donation and I think it is important that at every stage we test for probity and transparency and I have every confidence that my friends in Better Together are doing that."
When it was put to her that Mr Salmond had urged the campaign group to hand back the businessman's money, Ms Lamont responded by asking if the first minister felt Mr Taylor's investment in Harris Tweed should be withdrawn.
Ms Lamont said she recognised that Better Together needed to be careful about the money it accepted.
But she added that she had every confidence in the group and its leader, former Labour chancellor Alistair Darling, to make the right choices.
Ms Lamont explained: "Across Scotland, people recognise the probity of Alistair Darling, everything that he has done, he has been charged with the responsibility and I have every confidence in his probity."
Donor Mr Taylor has made the single largest contribution to the Better Together campaign for Scotland to remain in the UK.
The rival Yes Scotland campaign for independence received its biggest donation from Lottery millionaires, Chris and Colin Weir.
The vote in the Scottish independence referendum will be held on 18 September next year.