Scottish independence: Political battle over currency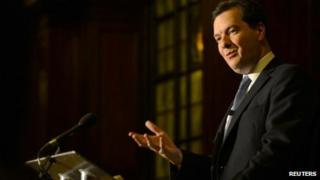 It is a statistical squabble. It is an economic engagement. But, assisted by those two disciplines, the contest over the currency of an independent Scotland is, at its core, a political battle.
The Chancellor of the Exchequer, George Osborne, says that the SNP argues that an independent Scotland would retain the pound in order to lessen public anxiety over the project, in order to depict independence as a continuum from prevailing circumstances rather than a sharp departure.
Finance Secretary John Swinney says that UK ministers argue that there would be grave difficulties in establishing a post-independence sterling zone between Scotland and the remainder of the UK (rUK) because they want to forestall that prospect from arising.
The intriguing thing is that, in this remarkable battle, both might be right.
Yes, there are economic and statistical arguments adduced in support of both propositions.
But, politically, it is in the interests of the chancellor to sow doubt about independence. It is in the interests of the SNP to offer reassurance.
Clear aim
In pursuit of these parallel aims, both attempt simultaneously to query the credentials of their opponents.
The chancellor notes: that Mr Swinney used to support the euro; presently states that Scotland could use sterling unilaterally, without a cross-border deal; and declines to rule out absolutely the creation of a new Scottish currency.
Mr Osborne adds his view that Scotland, post independence, might be obliged to adopt the Euro as part of the price for EU membership. His general point? That the SNP position on the currency is uncertain, unstable and vacillating.
In response, Mr Swinney says that, while other options are possible, it is the very clear aim of the SNP to maintain sterling as part of an agreed deal with rUK, conceding that this would involve a stability pact which would impinge upon such matters as debt.
Mr Swinney then seeks to undermine the chancellor, arguing that his economic record in office is not such as to command confidence.
For example, the Scottish government paper on the currency, also published today alongside the Treasury analysis, notes that any economy faces constraints from external factors - such as credit rating agencies and the verdict of the IMF.
Astute observers will spot that the UK has received criticism from precisely those quarters in the past week or so.
They mean you, George.
In response, Mr Osborne insists that his long-term stewardship of the UK economy will prove valid and sound. He argues further that, whatever the immediate arguments over economic matters, the issue of independence is irreversible.
I attended the event in Glasgow this morning at which Mr Osborne and the Chief Secretary to the Treasury, Danny Alexander, addressed a business audience in the splendid surroundings of the Trades Hall.
This venue, in the heart of the Merchant City, is redolent of both history and commerce. Mr Osborne did not neglect to stress both points. Scotland, he argued, had thrived down the centuries within the Union. It would be feasible, but unwise, to alter that.
Mr Osborne's core point is that it would be "unlikely" that rUK would agree to a sterling zone with an independent Scotland.
Currency speculation
Why would they, he argues, when it would expose rUK to risks from an independent Scotland which they could not control? Why would they, he argues further, when it would involve 58 million rUK citizens ceding a degree of sovereignty to five million in Scotland who would, by then, be part of a foreign country?
To be clear, Mr Osborne is not declaring a veto.
For one thing, he might not be chancellor if and when independence arises and cannot commit a subsequent government.
For another, the strategy of UK ministers is to highlight uncertainty, not to seem to be suggesting that they are placing any block in the path of a decision which, they repeatedly stress, is one for Scotland to take.
But Mr Osborne is arguing that the path would be highly problematic; that Scotland as a small economy might be more vulnerable to currency speculation and shocks; that, consequently, those in Scotland who wish to retain the pound would be well advised to vote No in the referendum.
As well as attending the Treasury event and reading their evidence, I have also scrutinised carefully the paper published by the Scottish government as its formal response to the earlier report by the Fiscal Commission Working Party, set up by Scottish ministers.
Sterling zone
It argues: "The pound is currently Scotland's currency and the Bank of England is Scotland's central bank."
As a consequence, it notes, Scotland would be entitled to contemplate and expect the continuation of such arrangements, provided agreement can be reached.
As to those negotiations, it argues that, in practice, it would be in the interests of rUK to create a sterling zone - whatever is said now in pursuit of a political argument for the referendum.
For one thing, they note that Scotland could - stress could, not would - adopt sterling unilaterally in much the same way as Panama uses the dollar.
Given that, SNP ministers say, rUK ministers and the financial system would rationally prefer a stable sterling zone rather than Scotland deploying sterling free from constraint on their northern boundary.
Financial institutions
Further, they say that Scotland contributes to the strength of sterling, not least through the hike which oil and gas gives to the balance of payments associated with the currency. That would, Nationalists argue, continue to be true.
And why would Scottish ministers want to maintain sterling?
To provide reassurance to industry and commerce; to ease continuing cross border trade; to help with the allocation of assets between the two states (Scotland and rUK) by conducting those in a single currency; and to assist cross-border financial institutions.
In response to which, Mr Osborne says that all these advantages and more are presently extant - in the sterling zone that is called the United Kingdom.
In response to which, Mr Swinney says that Scotland can have a stable currency - plus other economic levers such as tax, spending, borrowing, competition law, employment policy and immigration with which to boost Scotland's distinct interests.
In response to which... a fascinating contest is fully under way. Deadline, 18 September 2014.