Leveson: McCluskey denies exceeding his remit on press regulation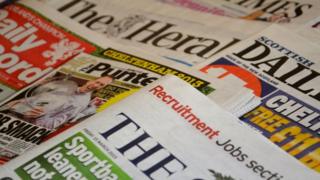 A row has broken out between the Scottish government's culture secretary and the judge she asked to lead a review of press regulation.
Lord McCluskey has written to Fiona Hyslop denying his expert panel exceeded their remit.
Earlier in the week, Ms Hyslop told a parliamentary inquiry the expert group had overstepped their mandate.
Lord McCluskey called for a compulsory system underpinned by law for newspapers and online news providers.
But in his letter Lord McCluskey accuses Ms Hyslop of departing from "the fundamental principle of 'statutory underpinning' and says his panel faced up to the "real problems".
The former high court judge was asked by ministers to look at how Lord Leveson's report into press standards following the phone hacking scandal could apply to Scots law.
His panel suggested the creation of "an independent, non-statutory, regulatory body of a character to be proposed by the press", alongside an independent body "with responsibility for ensuring that the independent regulatory body complies at all times with the Leveson principles".
Lord McCluskey also suggested "The jurisdiction of the regulatory body proposed by Leveson must extend to all publishers of news-related material and not be a voluntary system."
Asked during evidence to Holyrood's Education and Culture Committee on Tuesday whether she believed lord McCluskey's group had exceeded their remit Ms Hyslop replied:
"Yes, I think in terms of the compulsory system most definitely. It think it is a very valuable report because of the background and the points about Scots law are well presented however I think in terms of straying beyond a Leveson compliant scheme which was voluntary I think that the report went beyond that."
She went on: "I know my response when I first read it was concern about the compulsory element."
The Scottish government did not endorse the expert panel's findings and are now trying to get the royal charter proposed by the leaders of the main UK parties amended to make it comply with Scots law.
But in his letter published in the Scotsman newspaper Lord McCluskey responded to Ms Hyslop's committee claims, writing: "I believe we faced up to the real problems.
"In doing so, we did not go beyond our remit.
"The cabinet secretary has not shown how she will deal with the likely situation that some 'significant news publishers' will not voluntarily accept the new regulatory jurisdiction, thus rendering the system non-Leveson-compliant and ineffective."
"Nor has she identified any convincing incentives. She has also departed from the fundamental Leveson principle of 'statutory underpinning' and proposes instead to proceed by a royal charter, thus by-passing the legislature, especially in relation to defining which publishers are to be regarded as 'significant'."
Holyrood's party leaders will meet later today to decide whether or not to endorse the proposal of a royal charter.