Cancer patient Maureen Fleming's case raised in parliament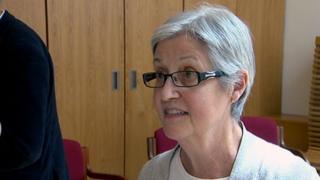 A grandmother is being forced to become a "health refugee" and move to England to get the cancer treatment she needs to extend her life, it has emerged.
The case of Maureen Fleming was raised by Labour leader Johann Lamont as she challenged the first minister on the availability of cancer drugs.
She said the NHS spent £7.2m a year on prescriptions for paracetamol.
She told Mr Salmond this money could be used to give 200 patients a year's supply of bowel cancer drug cetuximab.
Ms Lamont said that while cetuximab was free in England, cancer patients in Scotland had to pay about £3,000 a month for it.
She said this meant Scotland was in "danger of exporting health refugees".
Mrs Fleming, 63, from Bonhill in West Dunbartonshire, was in the Scottish Parliament's public gallery when Ms Lamont raised her case at First Minister's Questions.
Ms Lamont said the situation was "not good enough for people like Maureen Fleming".
"She is a mother-of-three and a grandmother of 10, and she has bowel cancer," she said.
"Maureen has been denied the drugs which a consultant says would improve her condition and extend her life.
"The Flemings are a proud family. They are struggling to get together the £10,000 needed for the first three months' treatment. But they can't afford to pay for any more after that, so they are planning to leave their home of 27 years and rent a flat in Newcastle because in England they can get the drug for free.
'Challenging issue'
She added: "Time is short, so Maureen Fleming has come to this chamber today to hear first hand what is the first minister's advice to her and cancer victims like her."
Mr Salmond accepted that the provision of cancer drugs was a "hugely difficult and challenging issue".
But he pointed out that Labour backed the Scottish government on the abolition of prescription charges and also voted against calls to establish a cancer drugs fund.
"The Labour party in this parliament not only voted to remove prescription charges from Scotland, which was a good vote, but also voted against the idea of the cancer drugs fund in the parliament," the first minister said.
"The fact that the Labour party agreed with this government both on prescription charges and in our attitude to the cancer drugs fund, puts Johann Lamont in an extraordinarily difficult position to pursue the line of questioning she is now pursuing."