Sadness, sympathy and parliamentary business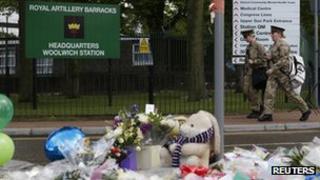 In the face of grievous horror, normality. In the shadow of wilful brutality, seeming calm. Public and political life can sometimes appear ephemeral but, when confronted with the raw edges of existence, its very persistence can be soothing.
As is right, as is proper, political leaders at Holyrood opened today with words of sadness and sympathy in the light of the shocking events in Woolwich.
As is right, as is proper, they then proceeded to debate current controversies as if social norms had not been threatened at all.
Woolwich arose again when Willie Rennie of the Liberal Democrats invited the first minister to confirm that Scotland's sundry communities would not be driven apart by a rash reaction to terror.
Alex Salmond thanked him, warmly and genuinely, for raising this topic - and proceeded to stress his belief that inter-community solidarity would be sustained. MSPs from all parties applauded.
Drug decisions
Earlier, Labour's Johann Lamont had reprised the issue of cancer drugs treatment, following her disclosure of the case of Maureen Fleming last week.
The exchanges were pointed and precise. Mr Salmond eschewed rhetoric, disdained conflict. Indeed, at one point, he said he was not going to "rise to the bait" dangled in his direction by Ms Lamont.
His answers were detailed, explaining the clinical basis of decisions on drugs: general licensing plus individual appeals. Ms Lamont pointed out that this scarcely assisted Mrs Fleming. Sedentary, Nicola Sturgeon could be heard urging Ms Lamont to say what, precisely, she proposed to do.
By contrast, Ruth Davidson's contribution was rhetoric laden. She was lampooning Mr Salmond's economic paper, published this week. It would, she said, leave Scotland seeking support where she could - like a poor citizen dependent on a back street loan shark.
In vain did Mr Salmond seek to pray in aid Denis Healey - who had said in an interview with Holyrood that Scotland could succeed as an independent state and that the UK was "scared stiff" of losing North Sea oil.
Democracy recreated
Did this subdue his Tory opponent? No, if anything, she ratcheted up the rhetoric. (Perhaps she sensed the baleful eye of Murdo Fraser upon her. You know, the guy she defeated for the leadership and who has now taken to making Delphic remarks in The Scotsman about the need for the Tories to move with the times.)
Whatever, Ms Davidson moved into top gear. Mr Healey, the former chancellor, was dismissed as a "nonagenarian" who had threatened "to tax the rich until the pips squeak", independence, she said, would leave Scotland "printing money faster than Zimbabwe" or taxing the citizenry "up to their oxters".
Smiling like a peckish tiger, the FM said he did not know which insult or issue to tackle first. Briefly pausing to absolve Ms Davidson of ageism, he said that his preference was for a post-independence deal with the remaining UK on currency and banking regulation.
More questions followed. More answers ensued. Democracy was recreated. Well done them.