Scottish independence: Report finds debate 'lacks insights'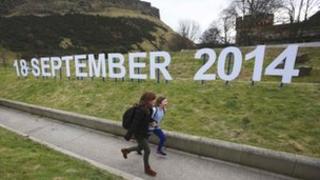 Business and civic organisations have been "ill-served" by politicians on both sides of the independence debate, according to a new study.
The Scottish Council for Development and Industry (SCDI) carried out a year-long examination of the arguments.
Its report, Future Scotland, offers views from corporate firms, voluntary organisations, small and medium enterprises, councils and unions.
It said the quality of the independence debate lacks insights and must improve.
Issues such as tax, monetary policy and Scotland's place in Europe were all considered.
But the SCDI said that with a range of views on both sides, most groups taking part in the study felt detailed answers on issues they want to find out more about were lacking.
Key policies
The report said: "The quality of debate on all sides has been particularly polarised, lacking in real insights beyond the realm of political interests and has ill-served those players in the economy needing to understand in more detail the advantages and disadvantages of proposals for change and for the status quo.
"This is reflected in the unwillingness of business people to ask relevant questions in a public way as they will be characterised as having viewpoints in one direction or the other and will still not have their questions answered."
The report posed a challenge to the leaders of the Better Together and Yes Scotland campaigns, as well as outlining views on key policies put forward by the SNP government.
Taxation, while acknowledged as a "key instrument", did not emerge as the most significant topic. SNP calls to cut corporation tax were viewed with caution.
"There is no great desire to participate in a race to the lowest tax environment," the report found.
The study found businesses viewed air passenger duty (APD) as a "significant constraint".
Most respondents to the SCDI research wanted to keep sterling and the Bank of England in an independent Scotland, in line with SNP policy.
The report also found a desire to keep a single British market, with businesses raising their concerns about any additional barriers to trade.
Some concerns were raised that businesses operating across Britain could be "severely eroded" if voters back independence in September next year.
The study, while focusing on the referendum, also highlighted potential areas of concern for the current administrations at both Holyrood and Westminster.
SCDI found a lack of knowledge about changes already agreed on a new Scottish rate of income tax, due to come into force in 2015.
"This low awareness extended to a number of finance directors who had not considered the practical implications of a Scottish taxpayer rate for internal processes such as payroll systems," the report said.
'Race to the bottom'
Prof Lesley Sawers, chief executive of SCDI, said the report was the product of detailed discussions.
She added: "It summarises their views, priorities and questions and raises issues for both sides of the debate to address. In an increasingly competitive global economy, the constitutional debate must focus on how we best secure SCDI's priority of long-term economic growth for Scotland."
Finance Secretary John Swinney said: "I welcome SCDI support for the Scottish government's proposal for a formal sterling area with a shared currency, which is not only common sense but would ensure the continued UK-wide market in areas like financial services that their members want to see with independence.
"SCDI rightly identifies APD as an area where we are being held back by Westminster and where independence will provide opportunities for real gains.
"There is a call for more information around areas where both the Scottish government and UK government would need to come to agreement, and we agree with SCDI that the quality of debate and information could be improved by discussion."
Chief Secretary to the Treasury, Danny Alexander MP, said the UK government was committed to "making Scotland open for business".
He added: "What we won't do is engage in a race to the bottom on corporate taxes. SCDI agree with us on that.
"It is for the Scottish government to explain why a race to the bottom is the only economic policy they have announced to date."