Fiscal group renews currency call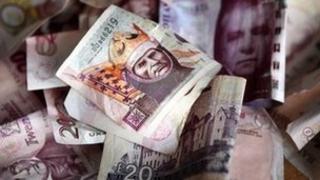 The economic experts who recommended that an independent Scotland should keep the pound as its currency have said they are disappointed by the UK government's response to their plans.
The Fiscal Commission Working Group advises the Scottish government.
It argued that a formal currency union between Scotland and the rest of the UK would be "in the interests of both economies".
The UK government cast doubt on whether this would be workable.
The fiscal commission has renewed calls for "technical discussions" on currency to take place between the two governments, before the referendum in September 2014, to help inform the debate.
In February the Fiscal Commission Working Group published its first report into the "macroeconomic framework" of an independent Scotland.
It recommended the adoption of a formal sterling area to "provide a strong overarching framework for Scotland post-independence".
The UK Government published its own report on currency and monetary policy in April.
Chancellor George Osborne has said it would be a "dive into uncharted waters" if an independent Scotland kept the pound in a currency pact with the UK.
The chancellor said the economic case for the rest of the UK was "not clear" and an independent Scottish state would have to accept "significant policy constraints" under such a pact.
The working group, whose members include economist Prof Joseph Stiglitz, said: "We repeat our call for technical negotiations and discussions to take place in advance of the referendum and believe that based on our proposals there is an opportunity to offer clarity ahead of the referendum."