Row over plans for faster Glasgow-Edinburgh rail times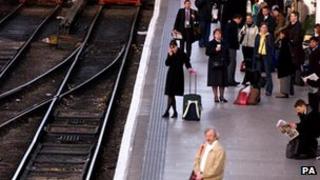 A row has broken out over plans to cut rail journey times between Glasgow and Edinburgh.
Transport Minister Keith Brown has told MSPs the electrification of the main line between the two cities would be completed by the end of 2016.
But Mr Brown also said it would be the end of 2018 before the fastest journey times were reduced to 42 minutes.
Labour claimed this was a "delay" to the schedule. Transport Scotland said all work would be complete by 2019.
A Transport Scotland spokeswoman said the £650m Edinburgh Glasgow Improvement Programme (Egip) was a huge investment.
She said: "The transport minister set out the revised plan for Egip in parliament in July 2012 and at no point did he say that the 42-minute journey time would be achieved by December 2016.
"Our ambition has always been to achieve full electrification of the flagship Edinburgh-Glasgow route and faster journey times as quickly as possible and we have been working closely with Network Rail to deliver this.
"By December 2016, the line will be fully electrified, which will allow new electric trains to be introduced through the course of the year to achieve full electric operation, providing passengers with a cleaner, greener and quieter railway with lower carbon emissions."
She added: "All electrification work and replacement of the full fleet of diesel trains will be complete by December 2018 and at this point, passengers will see 42 minute journey times between Scotland's two major cities."
Scottish Labour's Richard Baker said: "It's laughable that Transport Scotland and Keith Brown are describing Egip as 'on track' when they have already cut funding and are now announcing further delays to the schedule.
"We raised our concerns about the delivery of the programme back in September 2012 and there has been very little progress made since then."