Scottish independence: Call to halt referendum teacher packs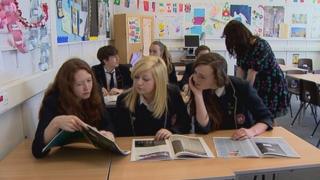 The Better Together campaign has been urged by independence campaigners to suspend its plan to take its pro-Union message into Scotland's schools.
Better Together announced it would be sending a teacher resource pack, with lesson plans, to every school.
Yes Scotland chief executive Blair Jenkins has written to his Better Together counterpart Alistair Darling.
He wants him to wait for guidance from the Electoral Commission and Education Scotland before going ahead.
Details of the Better Together plan emerged after a study of teenagers who will be eligible to vote in the 2014 referendum suggested 60% did not think Scotland should be independent.
The Edinburgh University study also indicated 67% of the young people questioned said they would like more information ahead of their final decision.
Mock debate
Sixteen and 17-year-olds have never been able to take part in a national election before but will be able to vote in next year's referendum.
The pro-Union campaign has said a teacher resource pack, which includes lesson plans, research materials and a mock debate kit, will be sent to every school in the country over the summer.
In his letter to Mr Darling, Mr Jenkins confirmed that Yes Scotland would be producing information packs for schools but said he would only do so "after receiving appropriate guidance and advice".
"I hope you are able to to give an equivalent undertaking," he said.
Ross MacRae, Better Together's youth rep co-ordinator, said he was confident that teachers would be able to use the resource in a balanced way.
"We're trying to make it as non-partisan as possible," he said.
"It's less about our message. The first lesson is about referendums. We're just giving them the resources. They do reflect our message but it's up to the teachers how to use it.
"We're confident in the teaching profession in Scotland. We don't think they're biased in any shape or form."
Education Scotland, the Scottish government agency tasked with improving the quality of education, has said it will produce advice for teachers by the summer.
Classroom debates
Larry Flanagan, general secretary of the EIS teachers' union, said: "Schools and teachers are used to dealing with a whole range of potentially controversial topics, abortion rights, for example, and equality issues."
He added: "The EIS has called for Education Scotland to produce materials for S3 to S6, mainly in relation to the rights and responsibilities of pupils to register on the electoral roll to take part in the election.
"Schools should not be lazy targets for the Yes and No campaigns in terms of political propaganda."
Mr Flanagan also dismissed Edinburgh City Council's warning to teachers about expressing their own opinions as "a bit disrespectful and a little bit heavy-handed".
He said: "Teachers are professionals and well aware of the potential dangers of giving their own views to pupils on various topics.
"I think most teachers would be most concerned to involve young people in that process of inquiry and least concerned about actually conveying their own opinion about something."