Alex Salmond visits Edinburgh Zoo pandas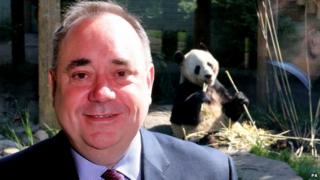 First Minister Alex Salmond has visited Edinburgh Zoo's pandas - and quizzed bosses on the female bear's chances of having a cub this year.
Tian Tian (Sweetie), the UK's only female giant panda, was artificially inseminated in April in the hope of making her pregnant.
If the procedure is successful, confirmation is expected to come in mid-July.
Mr Salmond said he gleaned no special information on the panda's pregnancy.
The first minster said: "It was the first question I asked, as you would expect in terms of my duties as First Minister of Scotland. (I've) no information. No scans are possible, incidentally, at this stage. So we'll all just have to bite our fingernails and wait and see."
Mr Salmond got the chance to see male bear Yang Guang (Sunshine) eating bamboo in his enclosure.
He added: "All of Scotland has been delighted to welcome Tian Tian and Yang Guang to Edinburgh Zoo and I'm thrilled finally to see them in their home.
"Their presence here is proving to be a huge draw for visitors to the zoo, meaning a welcome boost for tourism and the economy. Already, they have attracted more than 500,000 visitors in their first year.
"It is further proof, if any were needed, of the international reputation of RZSS (Royal Zoological Society of Scotland) and its standing abroad in the fields of science, research and conservation."
The first minister was there to congratulate the zoo on meeting a volunteering milestone. During its centenary year, the visitor attraction has just recruited its 100th volunteer, Danielle Bowers.
Mr Salmond met some of the zoo volunteers as part of his celebrations of Volunteers' Week.