Locally driven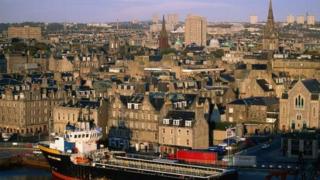 Been spending a bit of time as a boulevardier, ambling along the sun-kissed streets of Aberdeen. Yes, you read that aright. Authentic, warming, durable sun.
Last night, I briefly checked, as I always do, on my first married home - a little flat in the centre of Aberdeen, overlooking the harbour. In the evening sunlight, the silver granite glistened a long-remembered welcome.
Snag is to reach those sun-kissed streets, I had to traverse thickly congested roads. And that is now definitely an issue in the Aberdeen Donside by-election, the primary purpose of my visit to the Granite City.
The most interesting element of by-elections, by far, is chatting with the folk who have the most important role: the voters.
At various points during my sojourn round those sun-k. streets, I took the chance to ask people their views. Not their voting intention - but the issues that were concerning them, which might determine the by-election.
One or two mentioned the economy. Several more mentioned schools and attendant issues affecting the young. The biggest issue, entirely unprompted, was local transport.
One young woman told me she couldn't afford public transport to ship her four kids around. So she had a car. And the roads were……? "Rubbish!!"
At the heart of the Donside constituency sits the charmingly named Haudagain roundabout. Charming name, hideous challenge.
It has been voted the worst such circle in the UK. (Best was one in Hemel Hempstead, wittily billed "The Magic Roundabout".)
Haudagain intersects the A90 and the A96. Traffic pours in from the airport to the west, from the city, from the north, from the south - and gets stuck in the Haudagain holding pattern.
Check out the various parties for their solutions - which are connected to other issues such as the Aberdeen Western Peripheral Route and plans for a further crossing of the River Don.
But it is conceivable that the candidate with the most convincing plan for tackling this entrenched problem will gain a degree of voter support.
There's more, of course, much more. For a city with a thriving economy, there's a surprising level of uncertainty.
That may simply be Aberdonian (and Scottish) caution. But it may run deeper than that.
Aberdeen has recently undergone a period of introspection - partly driven by the controversy over city centre regeneration plans, partly driven by a desire to see a longer-term substructure to oil wealth, partly driven by a suspicion that other Scottish cities are modernising more rapidly.
That feeling - inchoate, imprecise - is seeping into this by-election to some degree. Again, wise candidates will be alert and respond.