Scottish Tory Party conference: David Mundell attacks Labour's 'weak leader'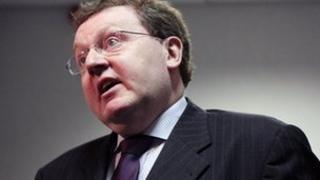 Scotland's only Conservative MP has attacked Labour's Ed Miliband calling him a weak leader from a weak opposition.
David Mundell used his speech to the Scottish Tory conference in Stirling to say that the country should stick with the strong leadership of David Cameron.
He said Labour in government had failed on immigration, welfare spending and clearing the deficit.
Mr Mundell added that Tories could be proud of what they had done in power.
The Scotland Office minister said: "After three years leading our country during one of the most uncertain and challenging periods we have known in peacetime we have some fine achievements to point to and to celebrate.
"And after three years patterns are starting to emerge. Patterns of success in the policies which the Conservatives in government are driving through."
Much of his speech was spent criticising Labour and its leader.
He believed the Tories needed to make it their duty to let the public know the consequences of voting Labour at the next general election in 2015.
Mr Mundell said: "The alternative to a Conservative prime minister is a Labour prime minister.
"The alternative to David Cameron as our leader is Ed Miliband as our leader.
"Now maybe it's just me, but the words 'Ed Miliband' and 'our leader' just don't go together.
"If Gordon Brown went from Stalin to Mr Bean, when Labour changed Mr Brown for Ed Miliband they went from Mr Has-been to Mr Never-Will-Be."
He insisted that the Conservative government, in coalition with the Lib Dems at Westminster, was bringing immigration under control.
Child benefit
Mr Mundell said Labour had lost all credibility on the economy and Mr Miliband had offered no leadership on the economy.
The MP for Dumfriesshire, Clydesdale and Tweeddale told the conference: "Just this week Labour briefed the BBC that they would not be reversing our changes to universal child benefit.
"But then it all changed, and now they say they won't even commit to that.
"He was too weak even to follow through on one cut.
"Conference, the Conservatives are taking the tough decisions in the national interest.
"But week in, week out, it's just the same weak leadership from Ed Miliband."