Legal threat over public bodies not meeting equality rules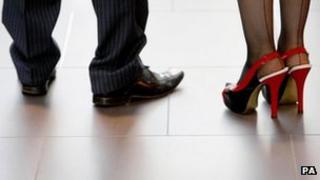 Nine public authorities are facing legal action for failing to reveal what steps they have taken to end age, sex and disability discrimination.
The Equality Act was introduced in 2010 to crackdown on women being paid less and ensure older and disabled people are not excluded.
A new report by the Equality and Human Rights Commission found the public sector is largely meeting its duties.
But some bodies failed to publish details of the actions they had taken.
Under the new legislation a total of 259 public authorities were required to publish information by 30 April 2013 on what they had done to ensure equality.
Where they had a workforce of more than 150, equal pay statements and gender pay gap analysis were also required.
Dismantling discrimination
The EHRC's report, Measuring Up?, showed that the majority of Scottish authorities - 4 in 5 - complied on time.
However, 17% published late, in draft form or did not published the full set of information needed.
Nine public authorities, which have not been named, failed completely to publish anything. The commission said its legal team would be taking this further.
EHRC Scotland director Alastair Pringle said: "While the number of public bodies who have published the required information is very encouraging, this is just the first stage of analysis.
"We will be carrying out further qualitative analysis of this information and the statistical evidence they contain.
"For instance, a local authority may have published on time, and may have a reasonable quality of reporting, but their data may show, for example, unacceptable differences in pay between men and women doing the same types of work.
The EHRC said public bodies should now use the information they have published to improve their performance.
Mr Pringle added: "Being excluded from the workforce because you are older or disabled, or being paid less simply because you are a woman, doesn't just harm individuals, it harms our society and economy.
"The public sector has a major role to play in dismantling discrimination and we are pleased that they have made such an encouraging start."