Holyrood committee begins economic forecast unit inquiry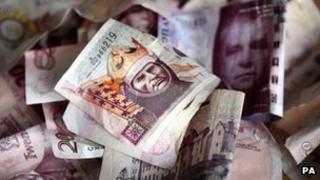 MSPs are to begin an inquiry into how a Scottish version of the Office for Budgetary Responsibility would work.
The current London-based unit conducts economic forecasts on a UK-wide basis.
Last month, Finance Secretary John Swinney said he believed a Scottish OBR would be necessary to manage Scotland's new devolved taxes.
Holyrood's finance committee has now called on expert and public opinion to suggest how an independent financial institution (IFI) should work.
The Scottish government has been keen to establish its own financial forecasting body before the implementation of newly devolved taxes due to come into force in April 2015.
Convener Kenneth Gibson said: "Many OECD countries have set up IFIs in recent years, including the UK, Australia, Ireland, Sweden and Canada. We want to hear expert and public views on what powers a Scottish IFI should have and what areas of analysis it should focus upon."
The committee is seeking views on a range of issues, including:
the role and remit of the body
whether it should have a statutory basis
what powers it should have
whether it should be accountable to the government, parliament or both
what its objectives and areas of analysis should be.
The UK OBR was created in 2010 to predict the UK's future economic performance.
It has faced criticism from the Scottish government for allegedly over-optimistic projections of devolved tax income, and allegedly pessimistic projections of future oil revenues.
A small number of IFIs have existed in some countries for many years but over the past decade new IFIs have been established in South Korea (2003), Sweden (2007), Canada (2008), Hungary (2009, although effectively abolished as of 2011), Slovenia (2010), UK (2010), and Australia, Ireland, Portugal and the Slovak Republic (2011-12).
IFIs vary considerably and may be under the statutory authority of the legislature like the Canadian Budget Office, or under the executive branch of the government like the Swedish Fiscal Policy Council.
Critical to definition of an IFI is that it looks forward to emerging trends, in contrast to audit institutions which look backwards.