Scottish independence: Brian Cox voice behind pro-yes cartoon dog Duggy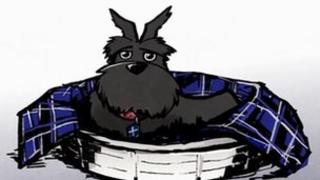 Acclaimed Scottish actor Brian Cox has become the voice of a cartoon dog created to promote the "yes" to independence message.
The animated adventures of Duggy Dug have been developed by the team behind the Newsnet Scotland website.
The group said it created the Highland terrier to use his nose "to sniff out fact from fiction while cracking a few jokes".
People in Scotland go to the polls next year to vote on Scotland's future.
They will be asked the "yes/no" question: "Should Scotland be an independent country?"
Lynda Williamson, who is communications manager at Newsnet Scotland, explained that the "scruffy, yet likeable" Duggy was a counter-balance to the "fear and pessimistic claims" of the "no" to independence.
She added: "We believe a loveable cartoon character is just the thing to counter the relentless negativity and scaremongering.
"Duggy Dug isn't just likeable though, he is wise as well and those watching the cartoons will be taken on an enjoyable yet informative wee journey."
Ms Williamson said Newsnet Scotland was delighted to secure the help of pro-independence actor Cox, the star of Hollywood films including the X-Men.
He commented that one of the most effective ways to combat fear was through humour.
Mr Cox added: "If we can provide a few laughs at the same time as showing just how ridiculous some of the anti-independence scare stories actually are then it can only help.
"I think Duggy Dug has the potential to inject a bit of fun into the referendum debate, and that's surely a good thing."
Duggy's views will be aired next month through a dedicated website, on Twitter at @duggy_dug and on YouTube.